Connecting Oracle RDBMS to Chartio
---
Connection Steps
When you choose to connect Chartio to an Oracle database, you're prompted to create a Direct Connection.
You'll need to supply your database name and a read-only role user in either setup process, and you might even need to supply a port number if you'd like to use a port other than the default.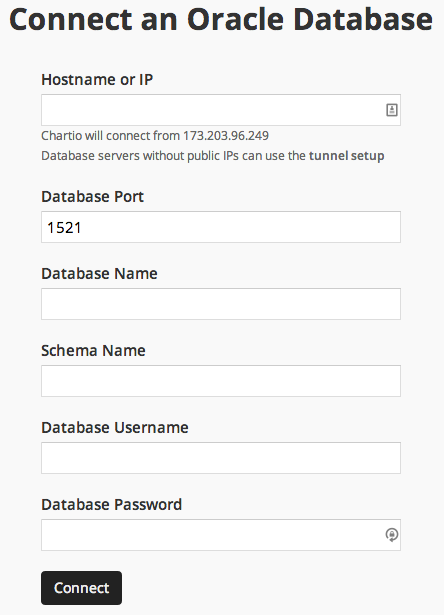 To configure a direct connection, you'll need to know the following:
Host - The hostname or IP address of your database server
Database Name - The name of your database.
User - The read-only user you'll be connecting to your database with.
Password - The password for that read-only user on that machine.
Database Port - We set this to #1521 by default, but you can make it any port you'd like.
You'll need to create that read-only user on your Oracle database before you fill out the Direct Connection form. Once you've completed the form, Chartio tests the connection, and will immediately show whether or not the connection was successful.