Connecting Oracle RDBMS to Chartio
When you choose to connect Chartio to an Oracle database, you're given the choice of two connection types: Tunnel Connection and Direct Connection.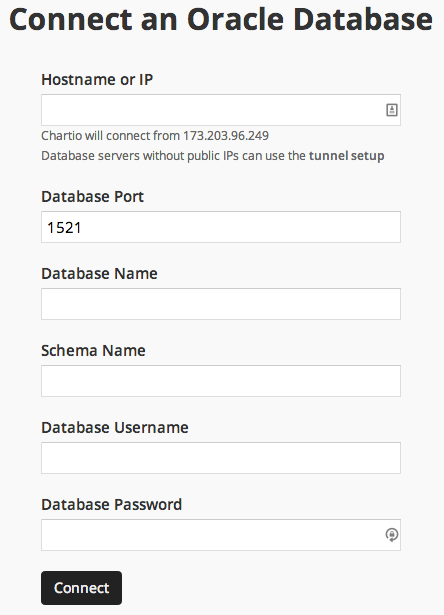 These connection types are very similar to the ways Chartio connects to other kinds of databases, but you'll need to supply your database name and a read-only role user in either setup process, and you might even need to supply a port number if you'd like to use a port other than the default.
Tunnel Connection
The tunnel connection is the quick and easy way to continually connect your database to Chartio with a lightweight and secure connection client.
Connecting an Oracle datasource to Chartio requires a read-only database role, which you'll have to specify for chartio_setup in the command line. You'll need to create that read-only role on the Oracle end; we think this Stack Overflow post explains that the easiest.
To start run the connection client, enter the following command in terminal on the Oracle database machine:
sudo easy_install chartio

Next you'll run chartio_setup, but you'll also need to supply some specific information about your database. For example, if you were connecting to the Oracle database sales with the read-only role sales_ro_user, you'd enter:
chartio_setup --oracle --database-name=sales --role=sales_ro_user

The script will then prompt your for your Chartio username and password, and for the password of the sales_ro_user role.
Don't have easy_install?
You can choose to either install the python-setuptools:
sudo apt-get install python-setuptools

and then go through the Quick Setup above, or you can download and install the source yourself:
curl https://chartio.com/static/src/chartio-1.1.9.tar.gz -o chartio-1.1.9.tar.gz
tar xvzf chartio-1.1.9.tar.gz
cd chartio-1.1.9
sudo python setup.py install
chartio_setup

Direct Connection
The Direct Connection method is a little faster than the Tunnel Connection but it requires your Oracle database to be accessible to Chartio over the internet. For this reason, we usually recommend the Tunnel Connection for Oracle databases.
To configure a direct connection, you'll need to know the following:
Host - The hostname or IP address of your database server
Database Name - The name of your database.
User - The read-only user you'll be connecting to your database with.
Password - The password for that read-only user on that machine.
Database Port - We set this to #1521 by default, but you can make it any port you'd like.
You'll need to create that read-only user on your Oracle database before you fill out the Direct Connection form. Once you've completed the form, Chartio tests the connection, showing if the connection was successful immediately.