A couple of weeks ago we promised to keep you updated on recent changes we've made. Since then we've released a number of new features and bug fixes. Here's a rundown of the changes:
Interactive query builder improvements. We've added the ability to control sorting of dimensions. You can also now filter using the new current date/week/month/year filters. We also fixed various minor issues related to filters.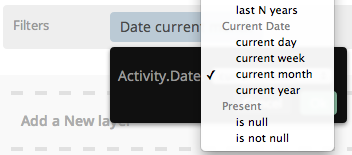 Data source improvements. A new query timeout setting exists for data sources. You can set this in order to kill queries that take longer than you'd like to run (the default is 5 minutes). We've also modified the schema editor to keep your user defined field category intact when refreshing database schemas. We also fixed various minor issues in the schema editor.
New data sources were released! Amazon Redshift and Google BigQuery are live. CSV import and SQL Server are now in beta!
If you have ideas or feature requests, we want to hear them! Contact us at hello@chartio.com anytime.