M1 Finance
Leveraging Data to Drive Customer Acquisition

What is M1 Finance?
M1 Finance is an online money management platform for retail investors, growing since 2015 as a Chicago-based fintech company. Their web and mobile based UI enables users to design their own portfolios composed of stocks and ETFs–without commission fees–or choose from a list of pre-built portfolios that are curated by M1 professionals. M1 also offers a low-cost portfolio line of credit for eligible customers, and, through M1 Spend, a checking account and debit card with optional perks. M1 integrates investing, banking, and margin lending together inside one seamless platform.
For some background, the investing landscape has undergone significant change in recent decades. Historically, investors were individuals with existing capital who sought guidance from financial advisors and other investing professionals. Over time, barriers for entry for average Americans have decreased in the form of free trades and increasingly user-friendly platforms. M1 Finance was one of the first broker-dealers to offer trades commission-free in 2017. Since then, more than 200,000 customers have, in total, invested almost $1B. M1's goal is to be the individual investors' most trusted money management solution, empowering users to control their money on one integrated platform.
How can marketing gather insights to increase user acquisition?
M1 Finance's original data stack looked like:
Custom ETL pre-data lake to aggregate data from outside partners
S3 data lake to store all data
Redshift data warehouse consuming data from S3
Microsoft Excel to analyze data
Back then, they had engineers querying data from Redshift into MS Excel using SQL and VBA for management to gather insights. M1 learned a great deal during this time. However, this was never scalable and certain analysis was too difficult to do manually. This was highlighted further in recent months as their assets under management grew exponentially, daily account acquisition hit new highs, and their recruiting efforts ramped up. Naturally, there is a great deal of information requiring study, particularly from the lens of marketing. Lots of spreadsheets!
The objectives of M1's marketing team are data oriented, especially since their inbound lead generation program is exclusively digital. The team looks at data to optimize acquisition channels, improve customer satisfaction, and to deploy resources appropriately. They have a number of channels driving growth, each with unique customer behavior and costs. Standardized reporting is required to capture, monitor, and action this data. The team is small and doesn't have the resources to create and maintain an Excel dashboard. The solution must be scalable and easily accessible by all teammates. How can the marketing team analyze available data to find insights to improve account acquisition?
Our customer acquisition dashboard quantifies success of our various channels.
—Paul Siemieniuk, Data Analyst at M1 Finance
Their head of marketing, Lou Friedmann, joined M1 Finance with prior experience using Chartio. This familiarity, associated cost, and potential business impact made Chartio an easy sell for the company. It was appended to their data stack as the BI layer and was quickly implemented into the company's workflow. Since Paul started in early 2019, they have integrated data from a variety of sources including Redshift, Google Analytics, Salesforce, Sprout Social, Reddit, and even the US Census.
Using Chartio's interactive query interface, the marketing team created a dashboard to report on and gather insights for customer acquisition. The purpose of the dashboard is very clear. They quantify the return on investment across acquisition channels. Below is an example of one of the charts they leverage daily. It is a time series view of account acquisition grouped by channel. The visual is powerful as it displays daily channel performance trends clearly, as well as highlights abnormalities for the team to replicate or to learn from.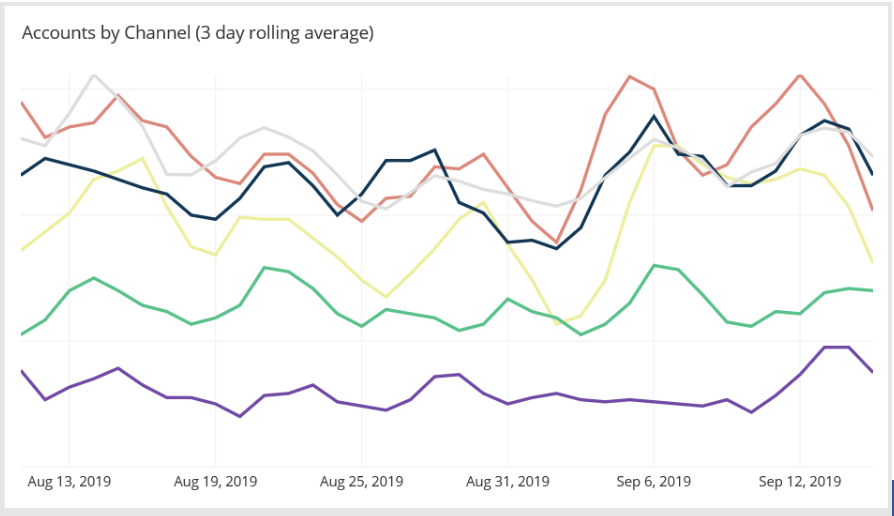 Source: M1 Finance
For instance, they discovered their affiliate partners creating new content has a strong correlation with increased account acquisition in their blended marketing program the following few days. The benefit driven by this new content impacts other channels in addition to the referral channel. This is something they want to replicate and scale. This is just one great insight that was found from charts just like this.
Not only are we quantifying our marketing program, we can communicate data to entire company.
Across departments, they have dashboards serving specific purposes, ranging from giving employees a transparent overview of company performance to visualizing call data on the operations team. They have found actionable insights across all departments. The marketing team learned which channels can bring in more efficient growth to prioritize efforts. The operations team discovered areas needing automation to reduce workload. The leadership team found the best KPIs to use for current and past success. These discoveries allow management to deploy resources more efficiently.
There are peripheral benefits of using this application as well. Teams have an opportunity to collaborate with others to address areas of opportunity. Insights from charts can be communicated with colleagues in fun settings, such as lunch & learns, where groups can brainstorm follow-up actions. It serves as a great tool for maintaining high standards of data quality as there are individuals invested in different facets of the data. Most importantly, everyone in the company has access and is enabled to research themselves.
We are just getting started.
M1 Finance is just scratching the surface of what they are capable of. Existing BI infrastructure's insights have a heavy hand in the prioritization of their product releases.
As our company evolves and increases efficiency, we must keep delivering on a great customer experience. Banking services add an entirely new dimension to our platform. We will have to analyze how users engage with those services and how it impacts our other products. Chartio turns this daunting exercise into an exciting puzzle with upside.
—Paul Siemieniuk, Data Analyst at M1 Finance
---
"M1" refers to M1 Holdings Inc., and its affiliates. M1 Holdings is a technology company offering a range of financial products and services through its wholly-owned, separate but affiliated operating subsidiaries, M1 Finance LLC and M1 Spend LLC.
M1 does not provide investment advice, and this is not an offer or solicitation of an offer, or advice to buy or sell any security, and you are encouraged to consult your personal investment, legal, and tax advisors.
Brokerage products and services are offered by M1 Finance LLC, an SEC registered broker-dealer and Member FINRA/SIPC. All investing involves risk including the risk of losing the money you invest, and past performance does not guarantee future performance.
Brokerage products are not FDIC insured, have no bank guarantee, and may lose value.
M1 Spend checking accounts furnished by Lincoln Savings Bank Member FDIC. M1 VisaTM Debit Card is issued by Lincoln Savings Bank, Member FDIC.
No minimum balance to open account. No minimum balance to obtain APY (annual percentage yield). APY valid from account opening. Fees may reduce earnings. Rates may vary.
© Copyright 2019 M1 Holdings Inc.

M1 Finance is an online money management platform that integrates investing, banking, and margin lending together in one seamless experience. M1 enables users to design their own portfolios composed of stocks and ETFs--without commission fees--or choose from a list of pre-built portfolios that are curated by M1 professionals.
Interviewee
Paul Siemieniuk
Website
Industry
Financial Services
Company size
11-50 employees
More customer stories like this