December 2016
Charts
Add ability to hide tooltips to Map and Bubble Map charts
Minor data validation bugfixes
Column setting: customize column width in table charts
Dashboard variables
---
November 2016
Charts
Added Copy button to Query History modal
Ensure unixtime values are cast properly in Interactive Mode filters
Update chart size when changing chart type (for unsaved charts)
Dashboards
Allow sending reports to non-Chartio users
Landing page: add dashboard menu to dashboard grid view
Data Pipeline
Data sources
Usage stats: view the Usage tab in your data source's settings to see stats about query duration, errors, etc.
BigQuery: add setting to choose either Legacy SQL or Standard SQL
Add VoltDB as a data source
---
October 2016
Charts
Query History: view previous versions of saved SQL Mode queries
Show live preview when creating text elements
Resolve heat map rendering issue with null values
Preview Table Data: quickly preview the first 100 rows of a table in your database.
Dashboards
Per-dashboard Time Zone support
New shortcut: click dashboard title to clear filters
Add "reason" text field to Request Dashboard Access form
Allow dashboards to use local time for time zone
Simplified add dashboard form
Dashboard variables
Data sources
Organization
Increased account protection: require captcha for >5 failed login attempts, implement password complexity requirements
Allow dashboard admins to access dashboard embed configuration
---
September 2016
Charts
Allow more space for heat map labels
Edit Variables in Data Explorer: show current value instead of default value
SQL Mode: Show/highlight line number for error messages
Data Sources
Optimizations to custom column validation
---
August 2016
Charts
Auto-complete in SQL Mode (Control + Space)
Show total for stacked bars in Bar Line chart
Fix minor chart rendering issues
Ability to edit dashboard variable values in the Data Explorer
Retain filter values when switching between filter types in Data Explorer
SQL Mode: add help text for keyboard shortcuts
Dashboards
Alert when report exceeds email size limits
Add keyboard shortcut: Shift + click to select individual charts
Data Pipeline
Data Sources
Add support for BigQuery shared datasets
Alert when data source has no foreign keys set up
Improvements to data source connection form
Resolve connection issue with Google BigQuery
Organization
Add datetimes to notification center
Prevent multiple form submissions during checkout process
Fixes for checkout process for expired trials
Resolve authentication issues with OneLogin
---
July 2016
Charts
Data Explorer improvements

Expanded SQL Mode: larger querying window, included schema view
Improved Pipeline Visuals: see all steps from all layers at a glance, view input and output data in each step
Chart Preview updates: easy access to chart title, renaming and rearranging columns, auto-selection of best-fitting chart type

Improved hover state for drilldown charts
Data sources
Updated query log export
Debug page improvements
Fix schema visualizer controls
Embedding
Enable anchor links for embedded charts
Organization
---
June 2016
Charts
Allow 5th Bubble Map column to group by color
Fix positioning issues when bulk cloning charts
Dashboards
Hide chart hover behavior in presentation mode
Data sources
Improvements to CSV update process
Organization
Dashboard Viewers can view Snapshots
---
May 2016
Dashboards
Improvements to chart arrangement

new alignment grid
adjustments to chart margins and spacing to ensure uniformity

Updated Chartio Default theme
New Theme settings

set variable background color, chart background color
Data Sources
Add SSL option for Google Cloud SQL
Add Distinct Count (Approx.) aggregation for Elasticsearch
Organization
Simplified top navigation
New landing page for dashboard management

visual grid or list view
improved search, sort, and filtering capabilities

Setup guide (Help > Setup) to assist new users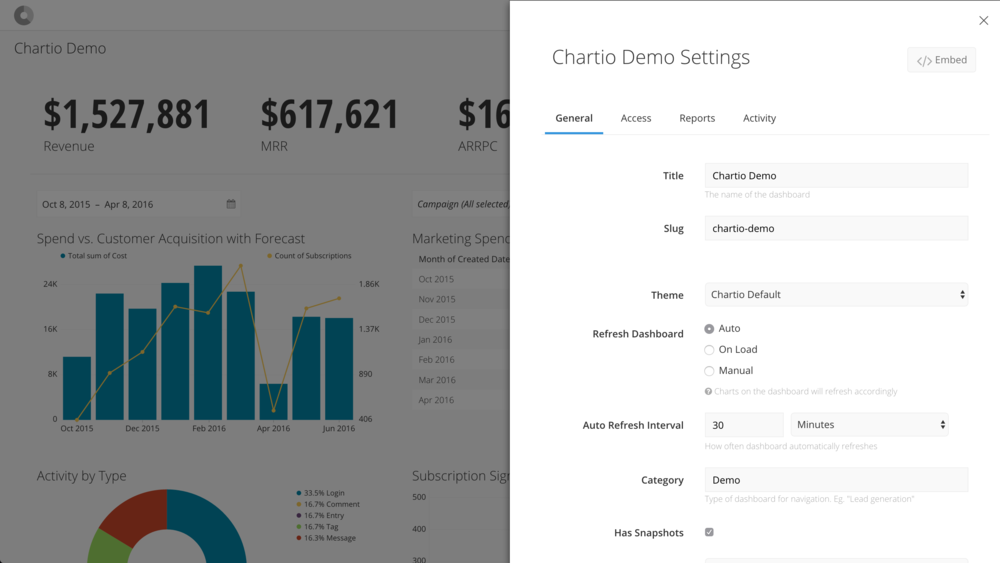 Clicking the Dashboard Settings button in the sidebar will open the settings in a drawer, allowing for quick and easy access.
---
April 2016
Charts
Dashboards
Dashboard variables
Allow text input to accept multiple values
Variable editing/management moved to dashboard settings tab
Data Pipeline
Data sources
Enable Time Zone setting for PostgreSQL timestamp columns
For new data sources, add notification when no foreign keys are detected
Organization
Owners: auto-grant access when navigating to a dashboard or data source you do not have access to
---
March 2016
Charts
Add Day of Month and Day of Year Time Buckets to Interactive Mode
Dashboard variables
Data Pipeline
Data sources
Organization
---
Click "Auto" and Chartio will suggest a Chart Type to use
---
February 2016
Charts
Performance improvements to SQL parser
Add "Auto" chart type (suggests a chart type based on your chart data)
Dashboard variables
---
January 2016
Charts
Dashboards
Add keyboard shortcut to select all charts in Arrange Mode (Command+A/Control+A)
Dashboard Variables
Automatically detect data type for Dropdown
Minor syntax changes for dashboard variables in SQL Mode
Data Pipeline
Data sources
Organization