Chartio is, in our humble opinion, the best way for non-SQL users to analyze the information in their databases.
We love Excel, but it's not the ideal analytical tool. You may reach its limits if you need a complex answer from your operational data, real-time information, or an analysis of millions of data points - and you want it right now.
To get the most out of your data, you'll need to understand how your data is organized, how to get the data you want into a structure that you can analyze, and how to perform an analysis.
We get a lot of questions from users who want to use Chartio to push their data harder. For those people, we're introducing Data Boot Camp, a introduction to data analysis using Chartio.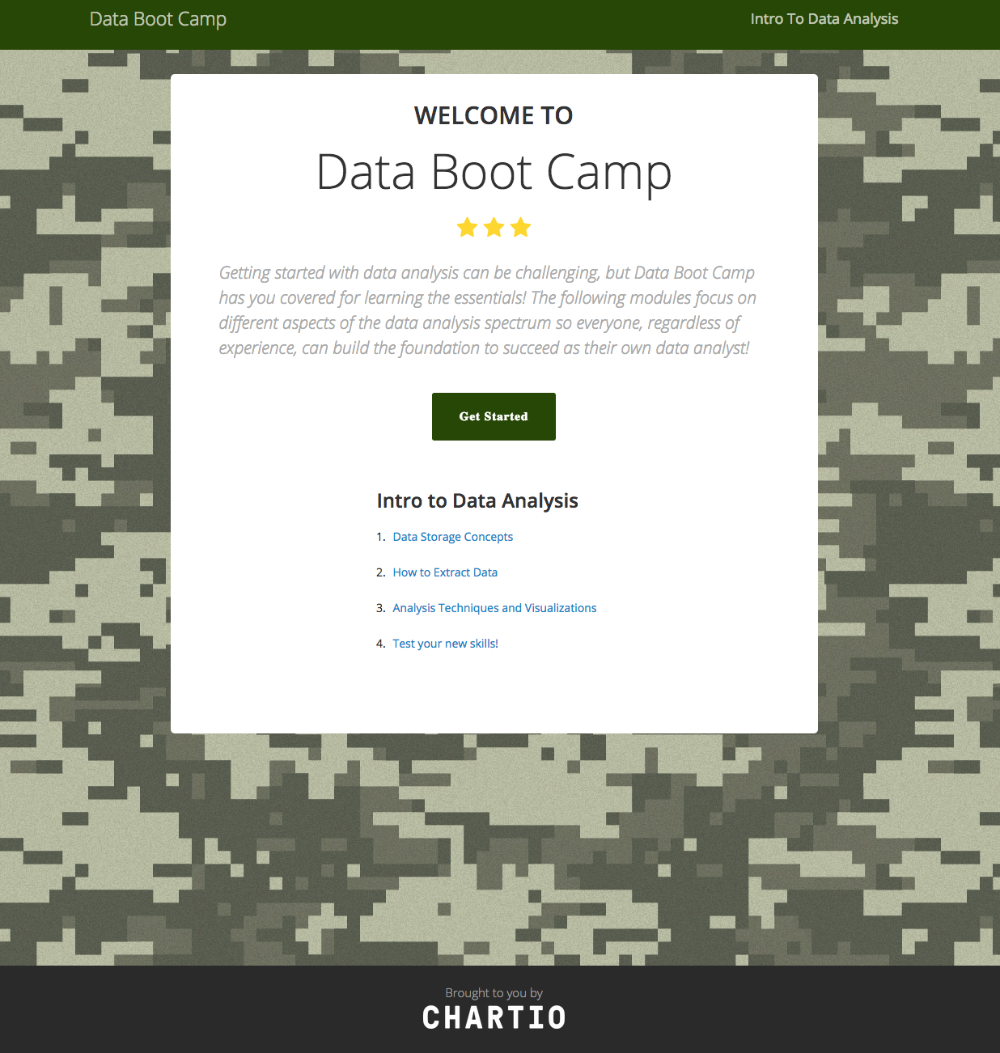 Data Boot Camp pairs an introduction to SQL with examples from Chartio's drag-and-drop Interactive Mode. It's divided into three sections, plus exercises to test your new skills.
Get More Information Out of Your Data
Data Boot Camp is designed to familiarize anyone, regardless of their experience, with the essentials for performing data analysis. It combines in-depth explanations, sample code, and examples from Chartio's drag-and-drop interface to demonstrate topics.
Data Storage Concepts - What are the basic terms you'll encounter in dealing with databases?
Extract Data from Databases - How do you extract just the data you need from your database? You know there's a ton of useful information in there, but what's the best way to find it and get it to where you can analyze it?
Analysis Techniques and Visualizations - Once you've pulled the data, how do you analyze it? One thing that makes Chartio unique is our Data Pipeline, which gives users the ability for business users to transform their data without the help of an analyst.
Test your new skills - Try answering some of real-world questions, like those our users solve every day. Then, we walk you through how we'd answer the questions, based on the lessons you just learned.
"What's in it for Me?"
You don't need to attend Data Boot Camp to use Chartio, but there are a bunch of reasons why you may want to. And if you've read this far, you probably don't really need to be convinced.
Learn more about how Chartio works. Because you're that kind of geek.

Gain insight into how your data is organized. If you're not a programmer or analyst, this may be the first time you're encountering your company's raw data. Data Boot Camp can help you understand how your data is organized and how to find what you're looking for.

Get more out of Chartio. Once you've mastered the concepts in Data Boot Camp, you'll be prepared to carry out more sophisticated analyses.

Take advantage of SQL to reuse or adapt someone else's queries, or make your own queries more efficient.
We Call it a Boot Camp, but it's More like Summer Camp
It won't toughen you up, and we won't make you get a new haircut. But Data Boot Camp will prepare you to paddle a canoe across your data lake.
Once you've completed the course, drop us a line and let us know what you think at support@chartio.com.