Last week we received some great news! We were honored with being named a top B2B San Francisco technology company in 2018 by G2 Crowd.
As a company that is headquartered in San Francisco—with much of our team living in the immediate San Francisco Bay Area—and a sizeable chunk of our customers being also being based in SF, this means a lot to us. It's humbling for us to be among good company on this list. We use Slack, Salesforce, Clearbit, Dropbox, Optimizely and GitHub. It's also very rewarding to see some of our customers on this list as well.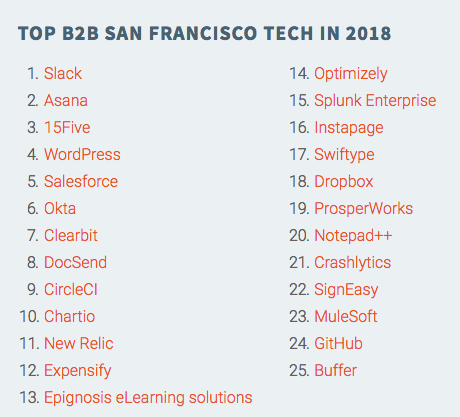 I'm not one to give too much attention to awards as a metric of success, but when they're driven by hundreds of customer reviews, I allow myself to take a moment to appreciate them and celebrate the accomplishments of the wonderful team we have here at Chartio.
In the past couple of years we've hit some very significant milestones along our ever going journey to JOIN people ON data. We envision a future where anyone (not just data analysts or scientists) can explore and understand their data. We accelerate that future with a product that makes data exploration as simple and powerful as possible, and through extensive data literacy focused education.
Surpassing our Giants
When Dave Fowler, our CEO, started Chartio several years ago, Tableau was the growing guerilla in the room. They were one of the first to really focus on the user experience as they were one of the first to actually sell directly to those end users as opposed to a CIO.
On the shoulders of the big improvements that Tableau brought to the market, we've continued on our mission toward making a product that anyone could use.
The results of over 200 customer reviews on the top software review site G2 Crowd, show that we've made some tremendous progress in raising the bar. Here is the full report.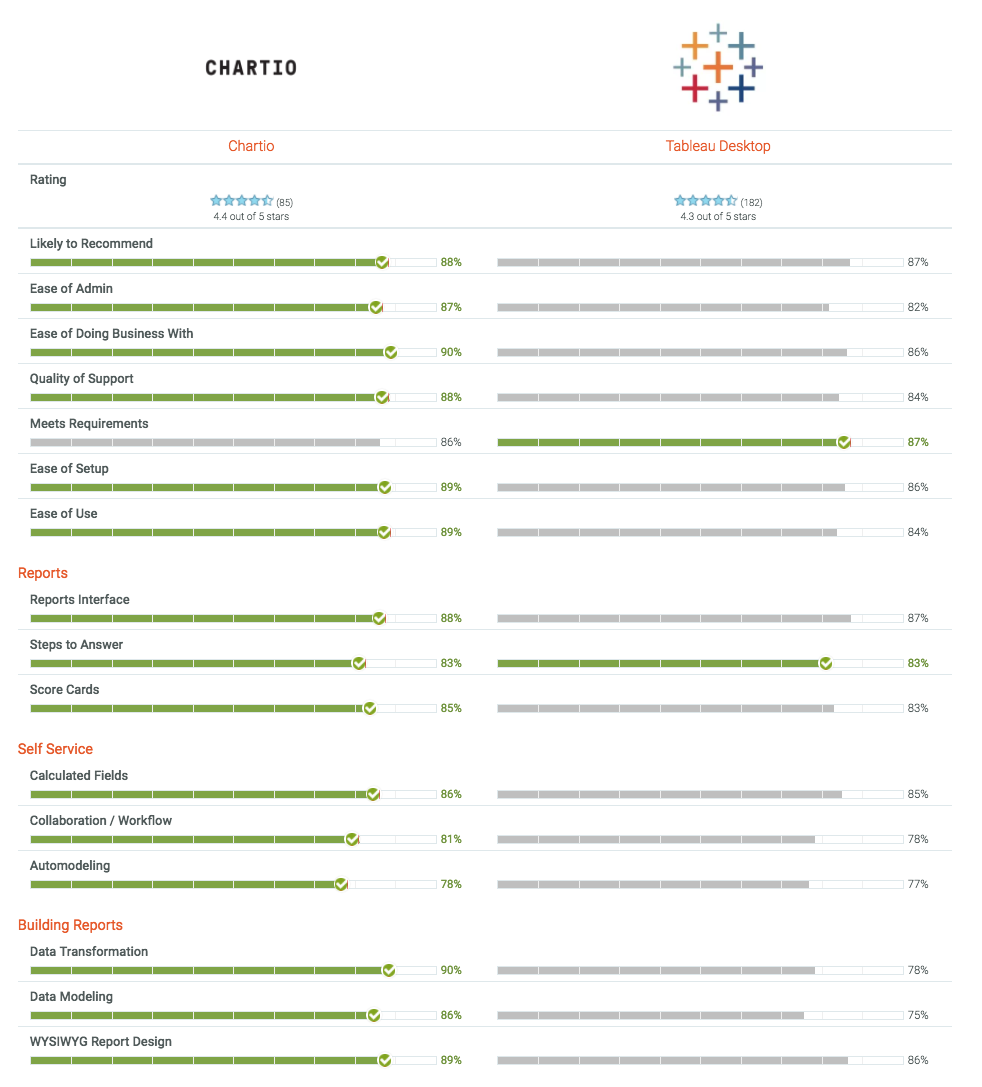 ##Valuing All Feedback
What I also enjoy when digging into the individual customer feedback are the roles of the people leaving the reviews. Chartio has a much larger occurrence of people being in Sales and Marketing.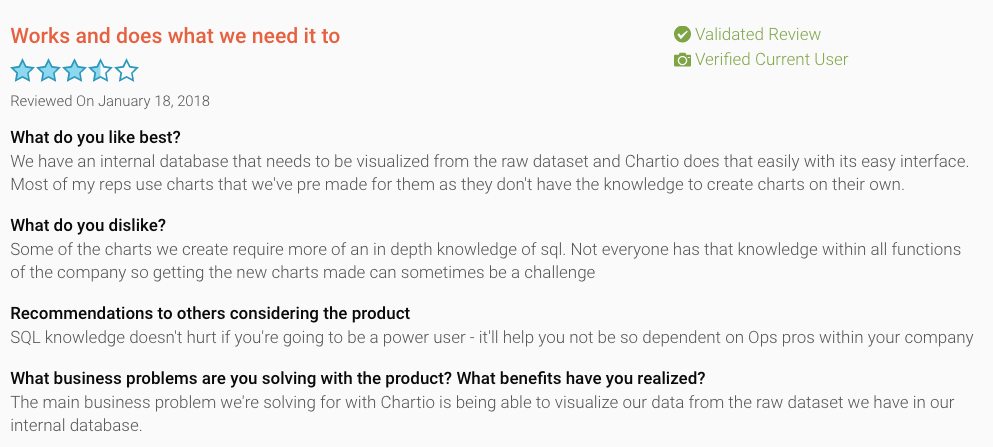 I just love that review. It's from a Sales Leader, and he's complaining that some of the charts require SQL and in depth knowledge. In his world, he also thinks everyone should be able to explore data.
These customers and expectations make it even harder for us to get great scores, but we wouldn't have it any other way. We totally agree with the feedback above and we are working to address it. We are making it easier than ever to connect to a multitude of cloud apps in Chartio (in addition to databases or data warehouses) without requiring any technical expertise. We are expanding our Data Pipeline to allow users to build even more powerful queries without using SQL. And we are creating a multitude of job-specific dashboards to help our users get to insights as quickly as possible.
Going Forward
We took a moment to reflect and celebrate our progress, but we're not stopping or slowing down any time soon. We've still got years and miles to go on this mission and more energy than ever.
If you're excited about what we're doing be sure to try us out, let your friends know, and keep in mind that we're hiring, now in two locations.
Sign up to get news and analysis in your inbox