The Dallas Museum of Art uses Chartio to Wrangle Data into Actionable Charts and Graphs
Posted by melissa on April 23, 2013 Expert,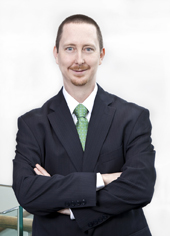 This past week Robert Stein, Deputy Director of the Dallas Museum of Art, spoke at the Museum and Web conference in Portland, Oregon. Below is a guest post from Robert talking about the work he has done at the Dallas Museum of Art and how data and Chartio helps wrangle the data into actionable charts and graphs.
The Dallas Museum of Art (DMA) is the largest general art museum in North Texas and has been collecting art in Dallas for 110 years. We recently made a decision that we could best serve our local community by dropping our admission charge and making general admission to the DMA free to anyone who wants to visit. At the same time, we pioneered a program of free membership called DMA Friends], that seeks to promote the participation and engagement of audiences with art. DMA Friends sign up at the Museum via iPad kiosks located on the main concourse and choose from dozens of activities structured as "Badges" that earn them credit for their participation with the Museum. This credit can, in turn, be used to claim rewards at the DMA like free parking, catalogs from the shop, or even behind-the-scenes tours of our art storage facility.
In addition to providing great experiences for the public, the DMA wants to use the data collected from DMA Friends to better understand how visitors participate with the activities we offer and how we can change our approach to excel at engaging visitors better.
Chartio has been a great tool that helps us wrangle this data into actionable charts and graphs. We actively monitor how many people are signing up for DMA Friends during the course of a day. Chartio gives our non-technical staff the ability to explore what's happening in the data behind the scenes and ask questions about what certain patterns in the data might be. By watching the data accumulating in real-time, we can easily redeploy staff in a different way to achieve better results and service to people visiting the art museum.
I gave a talk about DMA Friends last week at the 2013 International Conference of Museums and the Web (#MW2013) held in Portland, Oregon. MW2013 featured museum professionals from around the world presenting their best work and highlighting how technology can be applied inside cultural organizations. The talk I gave was entitled "DMA Friends: Promoting Participation and Engagement with Art." You can review the slides from the talk on slideshare.
DMA Friends - Promoting Participation and Engagement with Art from Robert J. Stein
I highlight our data collection process starting on slide 30, where I begin with a screenshot of a Chartio dashboard seen below.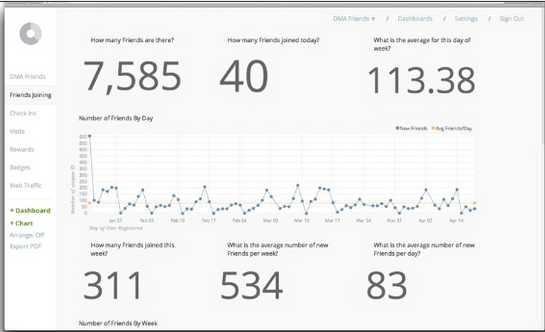 The development of DMA Friends is also documented in a formal paper written for the conference which can be accessed online for free. Bruce Wyman of USD-Mach Consulting was my co-author and presenter at the conference and was vital in the design and implementation of the DMA Friends platform here in Dallas. We also partnered with LearningTimes LLC and customized a version of their BadgeOS open-source software to create DMA Friends.
If you are in Dallas please stop by the DMA to check out DMA Friends first hand. And if you are interested in a similar charting experience, sign up for your 2 week free trial on Chartio and get charting today!