Dave Selected as Forbes 30 Under 30
Posted by melissa on January 10, 2013 Chartio
On December 17, Dave Fowler, our fearless leader here at Chartio, was selected as a Forbes 30 Under 30 technology pioneer. We weren't able to celebrate over the holidays, so we are kicking off the New Year with a cheers to Dave and the other 29 technology pioneers selected.
Although this is Dave's second year to be chosen for the list, Dave is humbled to be listed alongside many friends and Y Combinator alumni. Congratulations to the other Y Combinator startups who were also on the list:
Nate Blecharczyk, Airbnb
Adora & Aaron Cheung, Pathjoy
Patrick and John Collison, Stripe
Eric Frenkiel, MemSQL
Adam Goldstein and Steve Huffman, Hipmunk
Daniel Gross and Robby Walker, Cue
Victor Ho and Matt Doka, FiveStars
Drew Houston and Arash Ferdowsi, Dropbox
Alex Mittal and Boris Silver, FundersClub
Alexis Ohanian, Reddit
Joshua Reeves, ZenPayroll
David Rusenko, Weebly
Dan Siroker, Optimizely
We are excited to see what is store and look forward to following your success in 2013.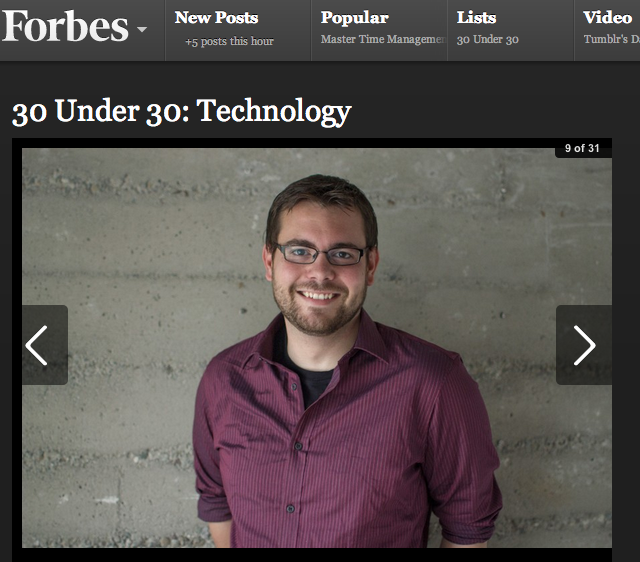 Sign up to get news and analysis in your inbox