"How We Feel" App Aims To Combat Coronavirus Spread With User-Generated Data
Posted by Dave on April 20, 2020 Chartio
As the world continues to confront the coronavirus pandemic, everyone is understandably eager to know when things might return to some level of normalcy.
According to experts, the answer will depend on our ability to test individuals for the virus, and trace those they've come into contact with. Without this critical testing data, officials won't be able to detect potential sources of transmission early enough to prevent them from spreading to the wider population. They'll also need this data to be able to loosen restrictions on business activity and social interactions without risking a resurgence of the virus.
But as of today, the availability of testing remains sporadic.
Here in the United States for example, only about 3.9 million tests have been conducted as of April 20th—meaning less than 2% of the U.S. population has been tested. And although testing is slowly ramping up nationwide, it still remains insufficient to meet demand, which hampers our ability to move past this crisis.
Fortunately, a new free mobile app called How We Feel has been released to help fill the testing void.
Created by a volunteer team of current and former engineers from Pinterest, and with support from partners including Chartio, How We Feel lets users provide scientists and public officials with up-to-date, hyperlocal health data, so they can detect trends that might be related to the virus and respond quickly as needed.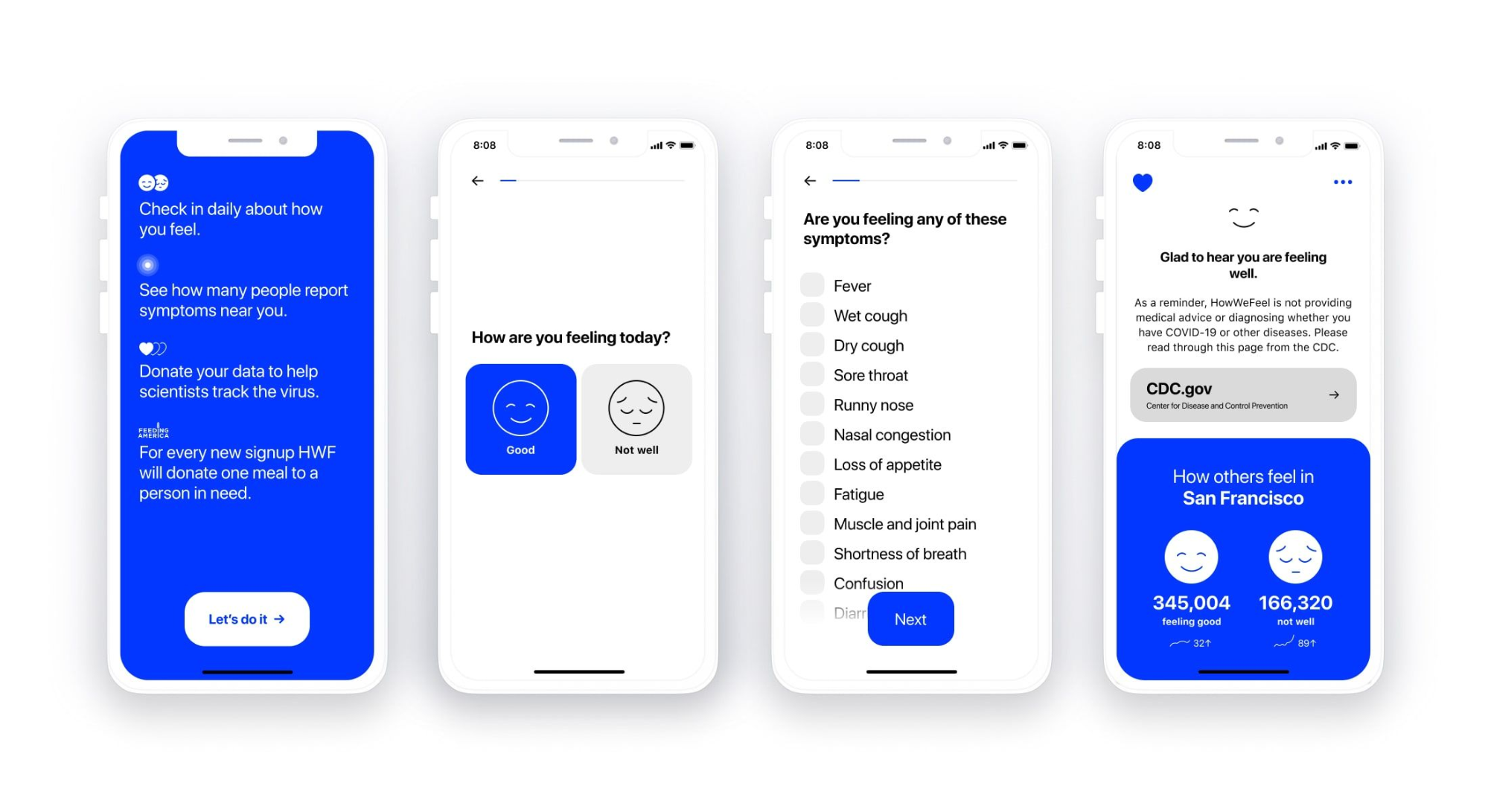 How the app works
After downloading the free How We Feel app for iOS or Android, users receive daily prompts to answer a few simple questions—like whether they've left the house in the past 24 hours, whether they've been exposed to anyone with COVID-19, and any symptoms they've been feeling that day.
This anonymous data, along with the user's zip code, is aggregated and securely shared with an approved team of doctors, scientists, researchers, and public health officials who are actively working to stop the spread of COVID-19. Once they've amassed enough user-generated data, they should be able to quickly detect hotspots of symptoms that might indicate an outbreak of the virus, and allocate testing and resources more strategically.
The app is the creation of The How We Feel Project, whose mission is "to make the world healthier by connecting citizens with the global health community." The team includes scientific collaborators from Harvard, M.I.T., UPenn, Stanford, and many other leading medical research institutions, as well as philanthropic organizations like Feeding America and the Bill & Melinda Gates Foundation.
How We Feel and Chartio
Though the app only launched a little over two weeks ago, it's already logging a massive number of check-ins each day. All that data needs to be aggregated and made explorable in a way that's easy enough for policymakers to navigate, but also robust enough for scientists to analyze and evaluate.
We knew that Chartio could be helpful here, so we quickly formed an internal taskforce and started discussing ways we could contribute to this important project.
Our team is now working with How We Feel to develop custom data dashboards for government entities and officials, letting them explore data for their specific geographies and detect insights and trends. We've started by creating dashboards for certain state governments, and we'll be building more for other stakeholders around the world as the amount of data collected by the app continues to grow.
At Chartio, we believe that everyone should be able to understand and explore critical data, so they can discover insights and make informed decisions as quickly as possible. We can't think of a more urgent, impactful way to turn this belief into action than with How We Feel, as we help policymakers worldwide leverage data to stop the spread of a pandemic.
In the weeks ahead, we'll keep our Chartio community informed on the progress of the How We Feel app, and we'll share details of how we're continuing to support the movement. In the meantime, if you want to join us in this effort, please help spread the word, and download the app today.
Sign up to get news and analysis in your inbox