Upsolve
How Bankruptcy Non-profit Upsolve Uses Chartio to Help Relieve over $190 Million in Debt

— Rohan Pavuluri, Founder and CEO of Upsolve
Every year, nearly 800,000 Americans file for bankruptcy.
Facing financial hardship—often because of unexpected medical bills or sudden job losses—these individuals turn to the bankruptcy process to help relieve themselves of the burden of overwhelming debt.
That's if they can afford it.
"Bankruptcy is such an amazing tool, but the problem is that bankruptcy lawyers cost $1,200-plus, which most low-income people in America can't afford," said Rohan Pavuluri, founder and CEO of Upsolve, a nonprofit that helps people file for bankruptcy online for free.
"You can do the process on your own, but the forms are like a modern-day literacy test—they're so complicated to understand," Rohan added.
Rohan first became aware of the costs of the bankruptcy process during his sophomore year at Harvard, while working as a researcher at Harvard Law School. His job involved compiling packets to help low-income families navigate the process of filing for bankruptcy on their own, in the absence of any professional legal assistance.
"In the civil justice system, unlike the criminal justice system, there's no such thing as Public Defenders, and people rarely have any right whatsoever to a free lawyer," Rohan explained. "So there are literally millions of poor people in America who have these rights in name, but can't actually access the rights because they can't afford to pay for the help they need. And that is one of the greatest civil rights injustices in this country, and we don't really talk about it."
While the packets Rohan was creating were helpful, they didn't scale well. Perhaps technology could enable a better solution?
"What I realized is that there was an opportunity to create a web app, much like TurboTax, to help people through the process of filing for bankruptcy on their own," Rohan said.
And so in 2016, Upsolve was born.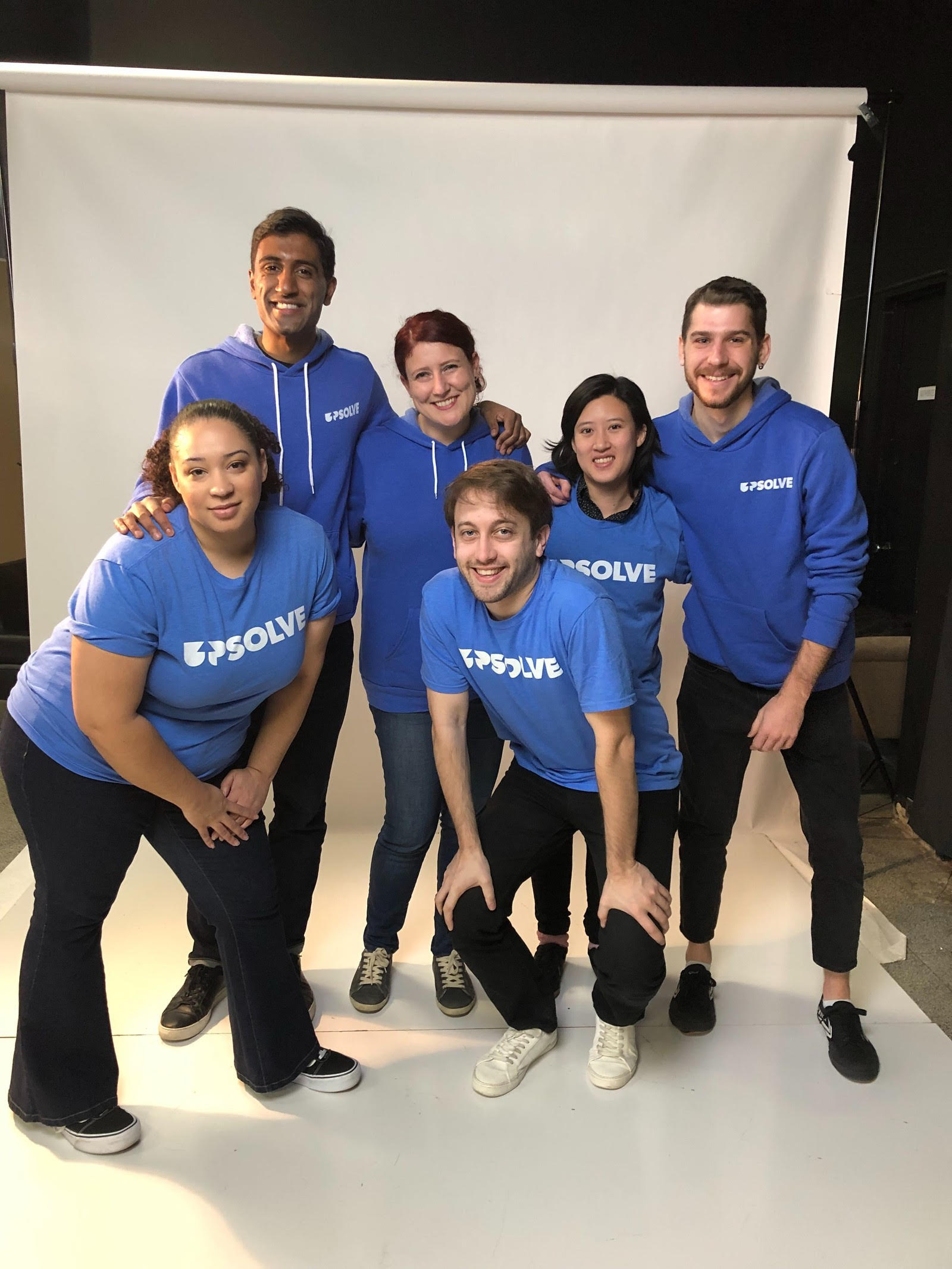 Rohan (back left) with members of Upsolve's NYC-based team.
Creating a scalable self-service solution
In the early days, Upsolve users would enter information through a Typeform interface, and Upsolve would use the submitted data to populate a PDF that could be filed with the bankruptcy court. In the 3+ years since, the product has evolved into a more robust self-service solution, and Upsolve has become the largest non-profit in America for bankruptcy, according to Rohan.
"People come to our website, they take a screener, they see if they're a good fit for our service, and then they take a questionnaire, where we ask everything they earn, spend, own, and owe," Rohan said. "They upload their pay stubs and tax returns, and then we take that information and populate their bankruptcy forms that they can file with the court."
To build a product that could successfully attract users and guide them through the interview and filing process, Rohan needed a deep understanding of Upsolve's funnel, and where people were dropping out of it. That's where Chartio became crucial.
"[Before Chartio] there would be a long, delayed process where we'd have to ask engineers to do a SQL query, and that would take a lot of time—they'd have to do all this context-switching," Rohan said. "We also tried to do this all ourselves using Elasticsearch and Kibana, and it was taking too much work. There was no point in internally building the tool."
Using Chartio to strengthen the funnel
By using Chartio, the Upsolve team has been able to ask questions—and quickly get answers—about their product, Rohan explained.
"Where is there dropoff in our funnel? Because we know how many people are filing, but we always wonder: are there fewer people visiting our website? Are there fewer people creating accounts? Are there fewer people finishing the interview process? Are the people who are finishing the interview process not actually filing the forms that we send them? So we've learned where the leaks are in our bucket. And we've really only used Chartio to learn that. So that's been really helpful."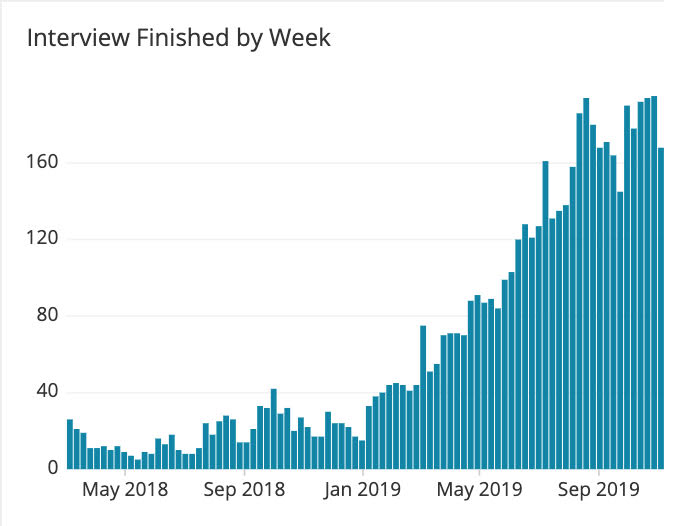 An Upsolve chart, built in Chartio, showing impressive growth in the number of weekly interviews they've completed with applicants.
They've been able to apply these learnings to strengthen the product. For example, Chartio helped them notice that users were dropping off during the questionnaire process. So, they added a "knowledge card" feature, providing inline answers to common questions to help prevent users from abandoning the questionnaire.
"We literally had a user say, 'You are answering my questions before I have them,' and that was a real validation. Time will tell if drop-off improves, but the feedback in the market from users has been really great."
With this commitment to building a great user experience, it's no surprise that Upsolve has seen remarkable growth in weekly new accounts created—a stat that Rohan regularly checks using Chartio.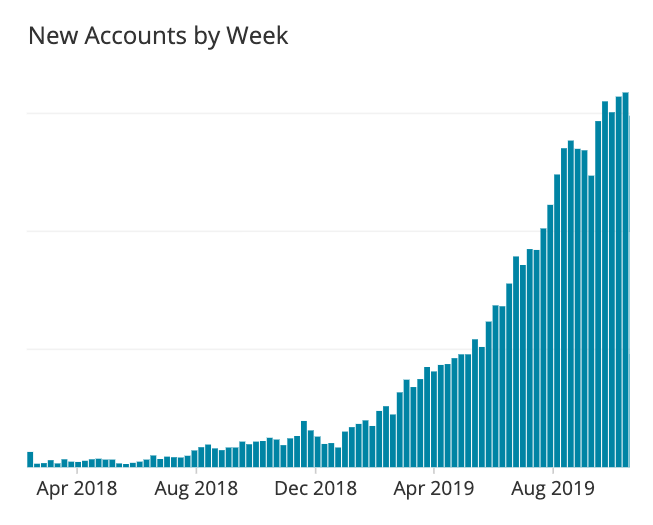 Another Upsolve chart showing a surge in the number of new accounts created per week.
Proving Upsolve's impact with data
Chartio has also been invaluable in demonstrating Upsolve's impact to the outside world.
For example, the Upsolve team can make ad-hoc queries of the amount of debt they've relieved in a given geography, and share that information with local stakeholders.
"We have debt cleared by cities and counties in America. In real-time, we're using Chartio to visualize how much debt we're clearing… So we can create these cool stories that we can pitch to local reporters, local foundations, local non-profit partners, letting them know our impact in their community. Which is important, because as an online product, people don't see us visibly in their community, so it's really important for us to be able to visualize like that."
Upsolve has a full-time team member dedicated to reaching out to local partners with just this kind of information.
"These non-profit partners need to know our impact in their community, otherwise they're not gonna be really interested in working with us. So [our team member] goes into Chartio and just creates all of these dashboards to see in real-time all the impact that we're having in all of these communities. She created all of these dashboards herself, and she's not an engineer. She loves this idea that in real-time she can create these hyper-personalized outreach emails to non-profit partners just explaining our impact in their community."
Rohan also uses Chartio to field ad-hoc requests from the media.
"Reporters will ask me very specific questions, like, 'How many of your users have student loan debt?' And we'll be able to use Chartio to pull that out."
Additionally, Chartio has been useful in helping Upsolve demonstrate its impact to its local funders.
"We have a local funder in Illinois, and they're always curious to know what our impact is in Illinois… So in real-time we can tell them how many filings we have in Illinois. We also have a local funder in New York, and I can in real-time tell them that we've relieved $10 million in New York since January 2019."
And for the general public, Upsolve's website includes a real-time tracker—which pulls data directly from Chartio—showing just how much debt the company has helped relieve overall. To date, the total exceeds a staggering $191 million:

Working toward greater social justice
As the Upsolve team continues using Chartio to help improve its funnel and communicate its impact to the world, Rohan has his eyes set on the future.
"A big goal this year is to position ourselves not just as a direct services organization that helps people file for bankruptcy, but we're trying to raise awareness around the injustice in America that poor people can't access the rights they need because they can't afford to pay for them."
And technology—and data in particular—are helping Upsolve pursue this worthy mission.
"The way forward is to create tools and better experiences for people to solve their own problems when appropriate, and to empower them. And a big part of that is data that we're using. We're excited to be able to show people that Upsolve can actually help people directly, and that you can have successful outcomes, and that you don't need a lawyer for every legal problem."

Upsolve helps low-income families file for bankruptcy for free.
Interviewee
Rohan Pavuluri
Website
Company size
1-10 employees
Headquarters
New York, NY
More customer stories like this