We're constantly working to improve Chartio. Here are some highlights from our recent releases. Have a feature request you'd like to see here? Write to us at support@chartio.com.
Latest: 2019 Feature Releases
January 2019
Charts
Ensure unsaved charts can be downloaded as CSVs
Handle errors with invalid values in aggregation row
Dashboards
Prevent form error when invalid cache duration is set
Resolve display issue in Outlook reports
Data Sources
Resolve issue opening modals in Data Source Stats tab
Improve Auto Foreign Key modal when multiple options
Update Marketo Stitch integration
---
February 2019
Charts
Bugfix for round tooltip values setting
Bugfix for Markdown support
Add Outer Join setting to include NULLs
Detect when a pivot is likely needed and show notification and shortcut
Improve Pipeline error message
Dashboards
Clean up urls when using default dashboard variables
Data sources
Add support for PostgreSQL to Google Cloud SQL connector
Bugfix for sort order on Snowflake date bucketing
Autofill default ports for additional data sources
Add support for SQL Server 2017
Embedding
Update Python example code
Organization
Allow searching by email address on Users page
Unify email formatting across mail clients
Fix report inline image display issue on iPhone Mail app
Improve checkout and plan selection pages
---
March 2019
Charts
Improve line interpolation performance
Resolve issue with color picker
Ensure joinable tables are shown immediately when foreign keys are added
Dashboards
Use variable names (not ids) in urls
Resolve display issue with drilldowns on charts with a Row Total
Data Pipeline
Add Date Difference formula option to Add Column step
Fix bug preventing dropdown interactions in Advanced Mode using Firefox
Data sources
Add LIKE filter operator for BigQuery Standard SQL
SSH key validation for tunnel connections
Bugfix for SQL Server week grouping in Interactive Mode
Support additional date formats in Google Sheets connection
Resolve issue with Athena date filtering and boolean syntax
Organization
Improvements to self-checkout
Improve "Invite Administrator" dialog
Add filtering capabilities to Teams API
---
April 2019
Charts
Add background color as a chart and control setting (Chart Settings > Color tab)
Ensure markdown text wraps
Resolve issue changing data source in Interactive Mode on saved charts
Dashboards
Preserve dashboard variable settings when navigating between chart editor and dashboard
Data sources
Resolve error editing a Data Store table in Advanced Mode
Improve performance of customer columns and tables
Progressive validation for new data source connections (improved connection debugging and guidance)
Fix syntax issue with Snowflake day of week
Improve performance for custom table updates
Add Snowflake Azure regions
Fix issue causing Athena connection failure in some cases
Redshift performance improvement: improve date filtering to allow sort key to be used
Organization
Add activity log entry for CSV file update
---
May 2019
Charts
Ensure text elements that depend on dashboard variables are synced accordingly
Show chart titles on chart loading state
Share charts to Slack
Dashboards
Allow adding images to dashboards (Dashboard sidebar > Add Image)
Show cached chart for dashboards set to Manual Refresh whenever available
Ensure custom dashboard variables are preserved in url when redirected
Support a cache duration of up to 7 days (previous maximum was 24 hours)
Dashboard loading improvements: send queries for in-view charts first, improve performance of chart rendering
Data Pipeline
Add Extract Text formula to Add and Edit Column pipeline steps
Data sources
Resolve Google Sheets date filtering issue when using relative dates
Resolve issue preventing foreign keys from being detected after initial schema reflection
Organization
Enable "chartio.com/org/login" url to better support SAML login
---
June 2019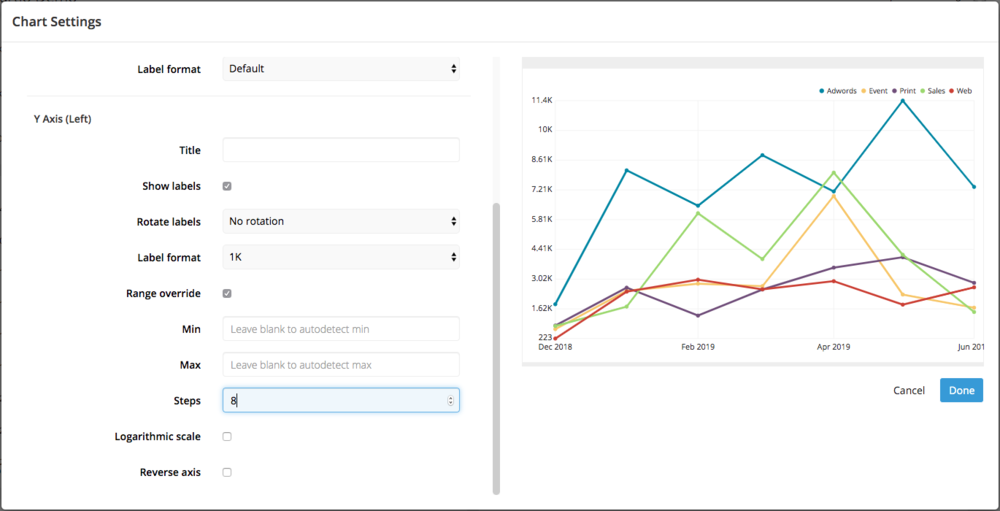 Y-axis step size setting. Click to expand image.
Charts
Add chart setting to display all x-axis labels
Add chart setting to set the number of steps in the y-axis (Chart Settings > Axis > Y-Axis > Range override)
Dashboards
Untoggle single series view by double clicking on legend item
New Dashboard Refresh option: Smart Refresh
Expand character set to support some missing Chinese characters
Display chart title for unloaded manual mode charts
Data sources
Improve Debug tab
Improve Foreign Key Detection
Resolve display issue with new custom tables
Resolve performance issue with Google Sheets connection
---
July 2019
Charts
Improve hover style for selected charts
Improve text highlight behavior
Improved color picker: now saves more colors from theme and custom colors
Dashboards
Include date and timestamp in filenames of exported charts/dashboards
Resolve issue with dashboard link in Outlook
Dashboard Variables
Add "Update" button to calendar filter
This will result in fewer queries being sent to the database, which should improve performance.
Data Sources
Add schema refreshes to activity log
Organization
Prevent adding users directly to "Added from Dashboard" team
Add explicit "Manage Team" link to make it easier to edit Teams
Add support for limiting session length
---
August 2019
Charts
Allow charts to have a transparent background (Settings > Colors > Background Color)
Improve chart link modal (auto-copy to clipboard, resize input)
Add color range (2 color gradient) to map charts and heat maps
Dashboards
Allow custom filenames for scheduled reports
Embedding bug fixes
Cloned dashboards should be categorized as Sandbox > Your Name
Bugfix for Snapshot downloads
Dashboard Variables
Fix range input bug
Allow smaller minimum width for dropdown variable
Data sources
Support multiple schemas for Snowflake and AWS Athena
Improve messaging for disabled data sources
Fix Snowflake syntax bug
Bugfix for Athena regex syntax
Organization
Add activity log entries for chart updates, exports, and renames
---
September 2019
Charts
Resolve issue with sorting a stacked bar chart
Fix issue with Scatterplot dot size setting
Allow smaller minimum chart size for Single Value and Single Value Indicator charts
Dashboard variables
Fix Snowflake syntax error when using Date Bucket variable
Data sources
Bugfix for CSVs sometimes downloading as empty files
Organization
Add activity log entry for schema refresh
HIPAA compliance updates
---
Archives