What is the Snowflake Cloud Data Warehouse?
Snowflake Elastic Data Warehouse is a cloud-based data storage and analytics service provided by Snowflake Computing. It allows businesses to store and analyze their data using cloud-based tools. Snowflake is also a fully relational ANSI SQL data warehouse, and is offered as a warehouse-as-a-service where infrastructure, optimization, availability, data protection and more is handled by the Snowflake Computing team.
For more on Snowflake Elastic Data Warehouse, review Snowflake Computing's datasheet for details on key capabilities, key benefits and business impact.
What Is Unique about Snowflake Vs Other Warehouses?
Snowflake's main differentiator as a cloud-based data warehouse is the separation of storage and compute, allowing each to be scaled independently at a cost-effective price. You are paying for the capacity and performance you use. There are other cloud-based solutions available with similar service offerings, but Snowflake's customers say that they choose it for its scalability.
Of course you may be comparing Snowflake against a specific cloud-based warehousing option and want a more detailed analysis. There are many specific comparisons already written on using Snowflake vs other solutions, some of our favorites are:
The Snowflake Cloud Data Warehouse Architecture
Snowflake exposes a relational interface to both structured and semi-structured data, and uses a hybrid of traditional shared-disk database architectures and shared-nothing database architectures. Snowflake processes queries using massively parallel processing compute clusters where each node in the cluster stores a portion of the entire data set locally. The Snowflake architecture is split into three main layers - cloud services, query processing and database storage.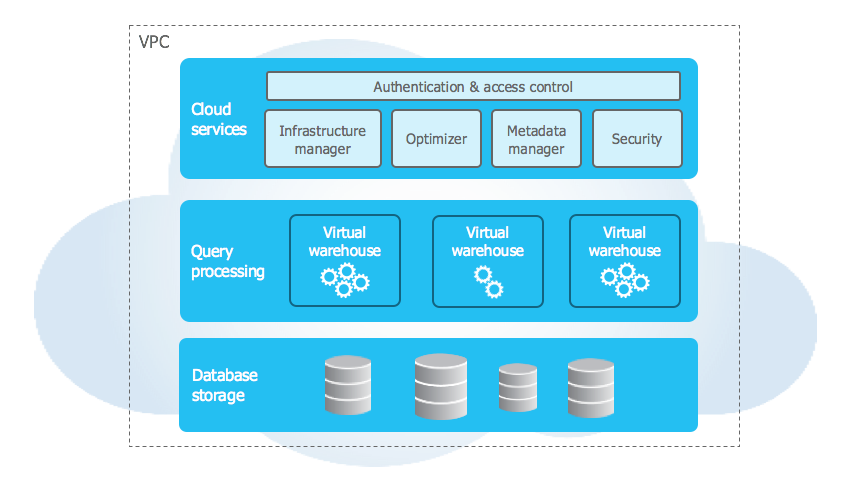 Image from Snowflake Documentation
Some great resources on the Snowflake Architecture:
The Main Benefits of Using Snowflake
The benefits from choosing Snowflake as your cloud data warehouse will vary between specific needs per project, but we believe that the most significant advantages are the following:
Snowflake leverages standard SQL query language. Most teams already use SQL and thus can get up and running a lot faster (we love SQL here at Chartio, but we have also developed a visual interface to SQL called Visual SQL that runs on Snowflake too!).
Snowflake supports common date formats like JSON, Avro, Parquet, ORC and XML. You can easily store structured, unstructured and semi-structured data and handle all the different data types that will exist within a single data warehouse.
Snowflake provides distinct user experiences for interacting with the data for a data engineer and data analyst. The data engineer uses the administrative interface for loading data and working from the application side and the analyst can consume and drive insights.
And finally, Snowflake's warehouse scaling sets it apart for handling to the needs of the warehouse without redistributing data.
Here are some more articles about Snowflake and its unique features:
The Limitations of Using Snowflake
If you are running an extremely large warehouse, a solution such as Amazon Redshift may be a better solution because of the higher level of direct control and visibility into the data optimization and performance. While Snowflake provides great maintenance and automation, if you are running very large warehouses you will want that greater level of control, especially if you have the resources to run a team of more experienced database administrators.
Here are some more articles around data storage considerations for Snowflake:
Building a Data Stack with Snowflake
Snowflake works with a variety of partners from data management to analytics to help you leverage Snowflake's flexibility and performance and extract data from your warehouse for meaningful insights.
Snowflake's technology partners provide you with all the solutions for data management, data integration, and business intelligence such as include ETL / ELT providers, data modeling, analytics solutions, machine learning and AI, security solutions, and cloud ecosystems.
Snowflake's solutions partners provide you with trusted and validated experts who can provide training and expertise on Snowflake.
Running Data Analytics on Snowflake
Considerations for your cloud warehouse of course include the scalability, cost and maintenance, but don't forget to consider the ease of extracting your data into useful business insights. Snowflake is optimized for data analysis, so that any amount of data can be stored and analyzed by an unlimited number of people or processes without resource contention. Snowflake easily integrates with analytics tools such as Chartio through the Snowflake Partner connect program, providing a direct way to access a sophisticated visualization layer from within your data warehouse.
Learn more about visualizing Snowflake with Chartio: