Chartio is more than a new (and better) way of doing business intelligence.
We also make it possible to plan for and implement business intelligence systems in an entirely new way.
Since the dawn of business intelligence, BI systems have been implemented using an exhaustive and exhausting requirements planning process. Each step of the process – requirements gathering, design, implementation, verification, and maintenance – was completed before the next began. Because of its sequential nature, this came to be known as a "waterfall process":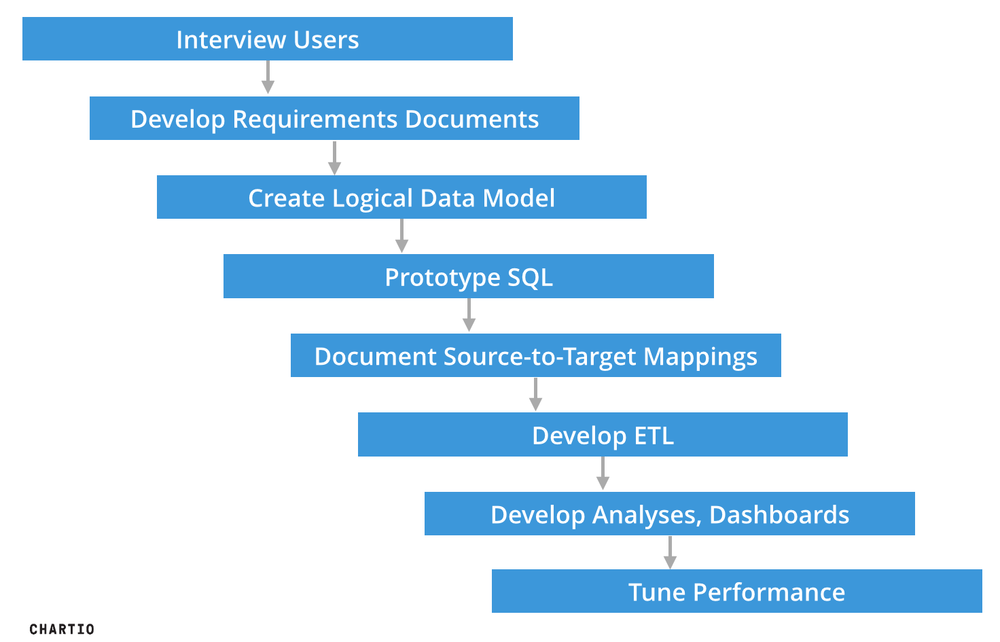 Waterfall BI Planning
This system worked well enough for understandably cautious IT departments. But it came with a heavy overlay of planning, process, and professional services.
It worked less well for the actual users, because they were only able to evaluate theoretical mockups during the planning and didn't actually get to work with live data until late in the process. It could take months before they could actually use the system they were paying for. It came with a large up-front investment in services, hardware, and software. This meant a huge sunk cost and vendor lock-in. Buyer's remorse wasn't an option.
These old-school processes developed in the 1950s changed little in the half-century that followed.
Fortunately, we live in the future.
As we've seen our users implement Chartio, we've come to understand that there are better ways to plan for and implement BI.
Agile Business Intelligence is a new way to think about the process of building and managing BI. In the last five years, technologies and practices have matured, so that it is now possible to deliver business intelligence systems faster, at lower cost, and with greater control by end users.
Many of these practices (such as the use of cloud storage and connecting to live data) were pioneered by companies building solutions for internal use, as an alternative to the giant and expensive solutions used by enterprise BI.
In Agile BI, the planning and development process is structured, and the data is optimized, once business users have had a chance to develop actual charts and dashboards and developers know which data is being used and how it's being used.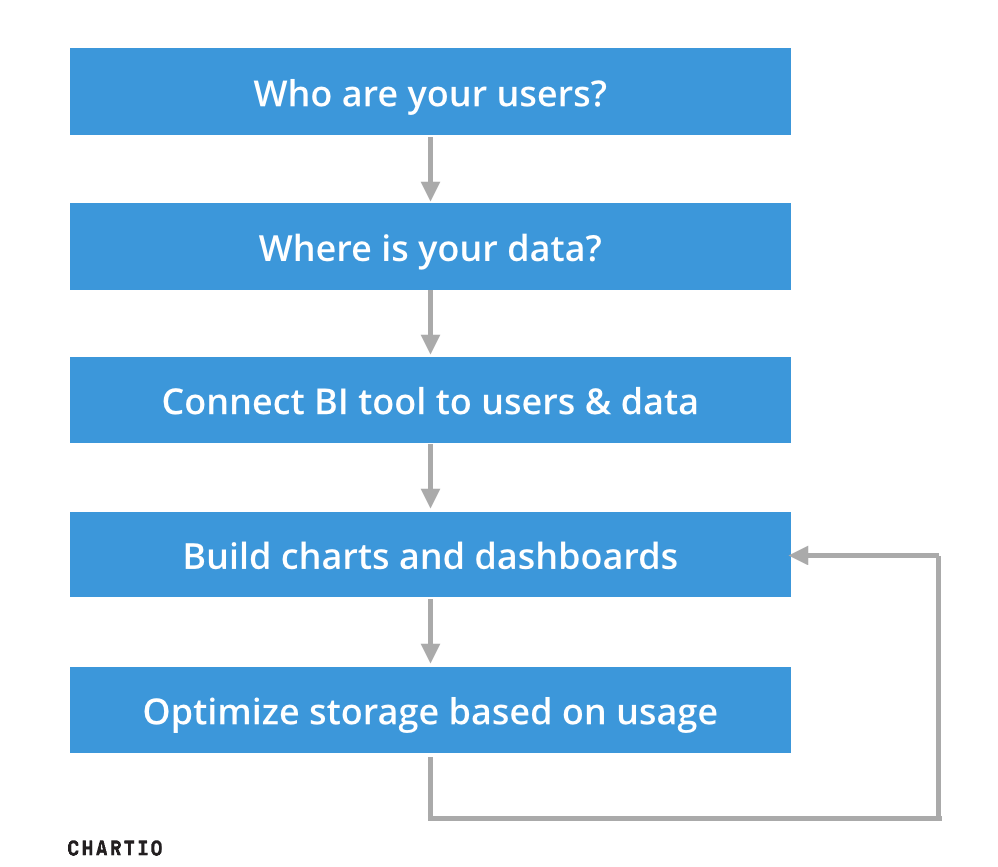 Agile BI Planning
Agile BI doesn't eliminate planning, but it greatly reduces the burden of planning in favor of action. It uses the feedback loop between actually building charts and optimizing storage to evolve systems into more usable tools.
Agile BI may result in some inefficiencies in the short term. But the time and expense of planning is greatly reduced, users have more say in the planning process, users can work with real data far sooner, and data is optimized based on real world conditions.
Chartio has introduced a number of innovations that make it easier than ever to implement BI quickly and continually improve it as you get a better handle on your needs. These include simple and powerful control of your schema, more flexible data warehouse options, data stores that give you the ability to store summaries and rollups in the cloud, custom schemas that simplify operational data for analytic use, and a culture dedicated to access and continual improvement.
To help you understand how Agile Business Intelligence works and what it can do for your organization, we've published a white paper "The Nine Principles of Agile Business Intelligence: Get better answers faster and with less work" to introduce you to the concept.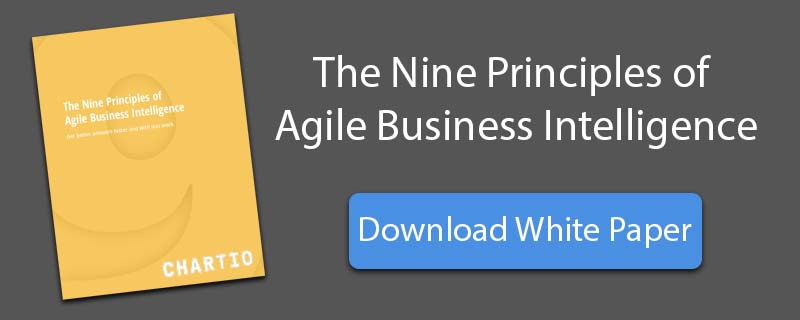 Sign up to get news and analysis in your inbox