How Analytics Drives the Golden State Warriors
Posted by tina on November 9, 2017 Data, Data Analytics,
After winning two NBA Championship titles in three years, it's safe to say the Golden State Warriors have the secret sauce to building a winning team. For the Warriors, this secret sauce is a mixture of a few things: all-star basketball players, the coaching staff and the early adoption of analytics.
The Warriors are regarded as pioneers in using technology in basketball. With that, as the Assistant General Manager, Kirk Lacob oversees the Warriors' use of analytics and technology. During his tenure, Lacob has brought analytics, machine learning and data science to the basketball court.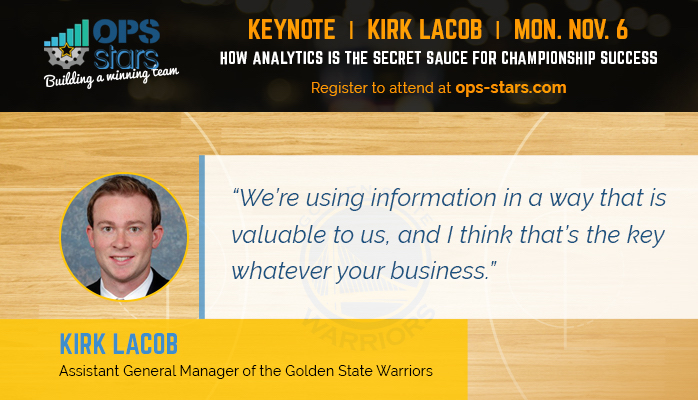 As the keynote discussion during Ops-Stars, Lacob sat down with Mark Emmons of LeanData and pulled the curtain behind the team's use of analytics as the secret sauce to championship success.
Experimenting with Technology and Analytics
"Analytics is about using data to make better decisions. Since Moneyball, people just assumed that analytics was just crunching numbers. That might be true for baseball, but in basketball, it's really about searching for questions to answer," said Lacob.
When people think of sports teams leveraging analytics to win, for some, the first example that comes to mind is Moneyball. For the Golden State Warriors, analytics has a different meaning. For Lacob and his team, analytics in sports is much more than crunching numbers to get stats—it's about asking the right questions.
"A huge part to understanding why we need analytics in sports is figuring out the right question to ask. We need to look at the analytics to see if there's something we should be looking at and point us in the right direction," said Lacob.
A huge part to understanding why we need analytics in sports is figuring out the right question to ask.
— Kirk Lacob
The Warriors transformation into a data-driven team began in 2010, when the Warriors emerged under new ownership and an NBA era that began to experiment with analytics. The Warriors, along with a handful of other NBA teams installed SportVU, a system of six cameras installed on arena rafters which provided a three-dimensional view of what's happening on the court in 25-frames-per-second.
But, as Lacob knows, this incredibly rich data set is only helpful if the Warriors know what to do with it. For the Warriors, understanding the data meant asking specific questions of the data and being cognizant about bringing in new concepts with the coaching staff.
Home Advantage Analytics
Much has been written about the proximity of the Warriors with Silicon Valley, both in ownership and physical location. But, do the Warriors simply just have home advantage when it comes to experimenting in analytics because of its geolocation?
"Everyone has access to what we have. We do get to beta test some things before others, but I believe that open source works in sports. Our advantage is how we use it," said Lacob.
I believe that open source works in sports. Our advantage is how we use it.
— Kirk Lacob
Since 2013, every team in the NBA has fully adopted SportVU, ultimately evening out the playing field in terms of data collection.
As a proponent in sharing their data, Lacob believes that the secret sauce or advantage to the Warriors isn't access or technology or the data itself—it's how the Warriors use that data to improve.
In 2016, the year following the Warrior's first Championship title in over 40 years, the team won the 'Best Analytics Organization' Award at the 2016 MIT Sloan Sports Analytics Conference. In reality, the team that was just deemed the most data-driven in sports was only a two person Analytics team. Yes, two people. Not a 20 a person team.
Again, it shows that it's not about how much data you have, it's about how you set up your process, scale it out and ultimately, how you use it.