Earlier this week, Chartio and AWS Redshift hosted a panel discussion with Data Analysts from Prezi and Udemy on marketing analytics best practices. As Marketing teams across SaaS business are realizing their need to rely on data to make decisions on budget, campaign efforts and overall growth, Data Analysts are tasked in helping Marketing leverage the full potential of their data.
While the entire evening was filled with valuable discussion from dashboard naming conventions to data governance, every attendee walked away with five takeaways from the panel.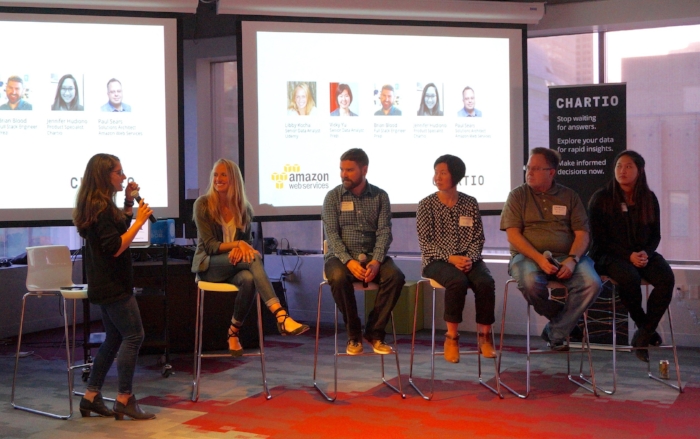 (L-R) Sasha Blumenfeld, Libby Kocha, Brian Blood, Vicky Yu, Paul Sears and Jennifer Hudiono.
Start By Building Out Your Data Infrastructure
You can't have marketing analytics without data. Luckily enough, every Marketing team has a lot of data. From Google Analytics, JSON activity logging from your marketing site, to different social marketing channels (Facebook Ads, YouTube, Quora), to CRM data - it amounts to a lot of data.
To build out a clear data infrastructure, once you've taken stock of all your disparate data sources, it's beneficial to store all that data in a centralized location so it's ready for querying. At Prezi, Brian Blood told us that the team built their own internal scheduler tool that automatically imports data (similarly to Airflow) from a data source into Amazon Redshift. Once the data is in Amazon Redshift, it's then ready to be queried in Chartio.
While collecting data from similar data sources like Google Analytics, social channels and CRM - all of Udemy's data goes into a MySQL database first where they use Hive to do pre-processing and then into Amazon Redshift. Within Udemy's Amazon Redshift instance, they have both raw data tables and summary tables (which is an aggregate of the raw data) built by their analytics team.
Marketing Attribution is Difficult, But Not Impossible
"Marketing attribution is a hot topic right now," said Libby Kocha. For Libby and the Udemy analytics team, they know that attribution is not just a question for marketing, but involves the her team as well.
Many marketing teams, Udemy included, uses the industry standard of last click attribution, which is when the "last click" is given credit for the goal conversion. For many companies, this is a perfect place to start and allows Marketing to start really thinking about attribution.
"At Udemy, we're moving towards a more complex, multi-touch system where we want to track and look at touches earlier on in the process. It's a challenging project because there's no right way to do it as it's very specific to your business," said Libby.
Udemy is approaching this challenge by thinking about the behaviors and business rules that they want to set up, so they're ultimately rewarding the right behaviors and implementing consistent rules over time.
Because the multi-touch attribution system involves both the marketing and analytics team, Libby stresses the importance of educating the marketing team on how the data is correlated to attribution, so both teams can work together to learn, iterate and improve the model.
Metrics That Optimize for Growth
For Udemy, their main KPI is revenue. With that, the marketing team tracks various growth metrics that directly impact the company's revenue. Particularly, the marketing team tracks three growth metrics:
New signup ROI
Retention
Organic Growth
"On the paid acquisition side, we're looking at new signs ups and ROI," said Libby. "For ROI, we track the first 14 days within signup and the revenue from that one student and we forecast based on the trends we see in different channels. The overall goal is to payback our spend within a year."
On the other end of the customer lifecycle, the team also focuses on retention, or making sure that students come back as paying customers. The third metric Udemy focuses on is organic growth, or how many signups come through the door via SEO or organically. This metric shows that the team isn't relying only on marketing spend and programs to acquire new students.
Best Practice: Good Data Governance is Foundational
Whether at Udemy, Prezi, Chartio or Amazon Web Services - all of our panelists emphasized the importance of data governance throughout their organizations.
"Everyone is trying to figure out how to keep their data organization, organized," said Brian. "At Prezi, we have a robust data documentation that we built in-house. We believe that if you created a data set, and since you know it best, it's your responsibility to write the documentation and maintain it."
"Data governance is about controlling who has access to data," said Paul Sears. "It's about ensuring data integrity and reduce disparities. Data governance is key within an organization."
As a Solution Architect at AWS, Paul Sears knows a lot about data governance and provided a few pointers on how to implement data governance:
Have someone take on the data governance mission and own the roadmap and policy for it
Engage in conversations with Data Analysts and end users and get them onboard with data policies
Start building out data governance earlier on because it'll be less of a headache
Conclusion: Building Out Your Marketing Data Strategy is as Easy as PIE
Building out a marketing data strategy doesn't have to be difficult. Vicky Yu, Data Analyst at Prezi shared a useful acronym that she implements at every company: PIE.
P: For people, make sure that you have the right people in place that can help in formalizing your marketing data strategy
I: For infrastructure, think about the kind of system and tools you want to use
E: For execution, execute what you planned and iterate when needed
Thanks everyone for attending the Chartio User Meetup.