Fast Company recently reported on a survey done by the National Venture Capital Association (NVCA) that found of the U.S. venture-backed companies that became publicly traded between 2006 and 2012, 33 percent have at least one immigrant founder. Even household names such as Google's Sergey Brin, Tesla Motor's Elon Musk and the Huffington Posts' Ariana Huffington all emigrated to the United States from various countries.
Immigration reform is on many people's minds and especially a hot topic in the technology industry as tech executives lobby hard to bring more international talent and make the process to hire international talent easier. Mark Zuckerberg has even weighed in on the topic saying that "immigration reform and visa reform are necessary to boost the U.S. economy and job market."
With that notion in mind, we wanted to see the visa data visualized so we could come up with our own conclusions. With the help of Enigma.io, who helped us find a public CSV file of 2012 H-1B data stats from the Department of Labor, we uploaded it to Chartio. If you aren't familiar, an H-1B visa allows US employers to temporarily employ foreign workers in specialty occupations.
It is interesting to note that besides consulting companies, the biggest employers of H-1B visa holders include New York City Department of Education, Oracle, Microsoft and Amazon. In 2012 the majority (92%) of people who applied were awarded their visa. The most applications come from computer systems analysts (89,651 total applications) and 95% receive their visa. On the flip side, there were only 4 visa applications for musicians and singers and only one out of four or 25% received their visa.
Visas Awarded
Overall the majority of people (92%) that apply for H-1B visas are awarded their visa. Out of the 327,514 people that applied, 302,360 were awarded their visas. Of the applications (keep in mind multiple people can be on one application from a company) 88.76% of the applications were certified.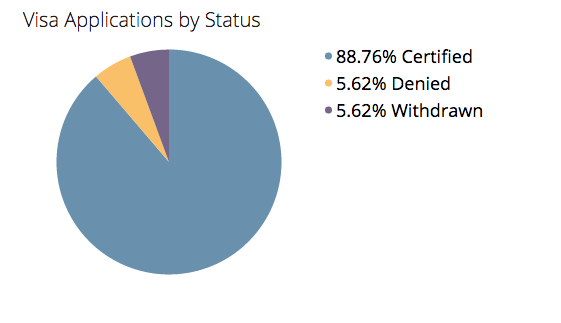 Companies with the Most H1-B Visas
Consulting companies provide the most H-1B Visas. Infosys Limited, Wipro Limited, Cognizant and PriceWaterhouseCoopers take the gold by awarding a combined 67,139 H-1B visas. From there companies to note include the New York City Department of Education (5,219), Oracle (4,499), Microsoft (2,748) and Amazon (2,269).

H1-B Occupations
Ninety-six percent of computer systems analysts applying for an H-1B visa get approved and make an average of $72,122. Of those that apply for H-1B visas, anesthesiologists make the highest salaries ($267,502 a year), whereas agricultural inspectors make the least ($24,902). 53% of H-1B visa holders make between $40,000 and $60,000.

States with the Most H1-B Visas
California leads the way in certifying the most H-1B visas - Mountain View, San Francisco and San Jose collectively provide 26,741 visas (more than half) out of the 48,108 visas awarded across the state. New York provides 31,357 (17,197 in New York City alone) and Texas provides 25,740 visas (8,700 in Houston alone).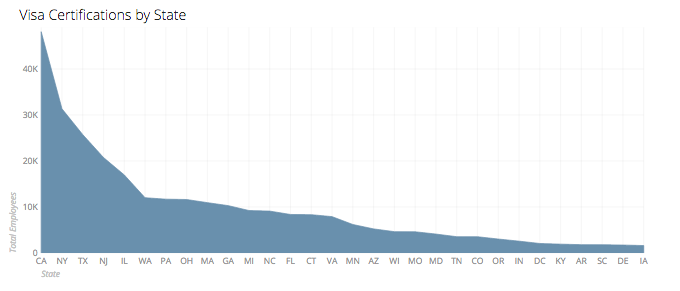 Data Considerations
This data set is a 2012 CSV file from the Department of Labor. [Note: We have received some feedback that the Department of Labor data set does not reflect visas granted. This reflects Labor Condition Applications (LCAs) granted. denied, etc. This is only one part of the application for a visa, and every year the Department of Labor certifies more LCAs than there are available visas. This does not reflect how many visas went through after they were granted.]
Since 1990 the cap has been arbitrarily set anywhere from 65,000 to 195,000 visas per year.
There is a limit on how many visas can be approved in an year but no limit on applications. USCIS conducts a lottery in picking the applications to process because of the limit.
The H-1B visa is a temporary visa available to highly educated foreign professionals who hold at least a bachelor's degree and have an offer to work in a specialty occupation. Many H-1B holders obtain their higher education degrees in the United States.
H1-B is a employer sponsored visa category i.e. an employer must offer a job and apply for your H1 visa petition with US immigration department.
The 65,000 cap on H-1B visas may be legally exceeded in the following ways.

A maximum of 20,000 foreign nationals holding a master's degree or higher from US universities are exempt from the cap every year.
Non-immigrants that work at universities, non-profit organizations associated with universities, or government research facilities are also excluded from the cap.
There are over 6,000 reserve visas set aside by the Free Trade Agreements for nationals of certain countries like Chile, if these visas are not used they are made available in the next fiscal year to other applicants providing what is essentially an unlimited rollover that can exceed the cap.
Begin visualizing your data in Chartio today. Simple to set up and easy to use, explore the world's most popular data sources in real-time by working with your database, not a data warehouse. [sign up] (/trial/) for your two week free trial and try it out for yourself!
Sign up to get news and analysis in your inbox