It's happening. Machines are taking over. Algorithmic trading took over Wall Street, and now, the same thing is happening in the world of marketing.
In finance, the machines have taken over completely. They're more efficient, more profitable, and account for over 70% of total trading volume.
Programmatic marketing is poised to replace traditional media planning. It's growing at an incredible 59%, according to IDC, making it the fastest growing segment of digital advertising.
A survey from IAB and Ovum shows that 95% of marketers who buy programmatically are happy with the results.
We all know programmatic is hot and with this post we're kicking off a series of articles to help you make the most out of it. But first, let's start with the basics.
What is Programmatic Buying?
Programmatic buying is buying and selling media in an automated fashion. Programmatic isn't just about real-time bidding (RTB). It includes open auctions, private and invitation-only auctions, preferred deals, and automated guaranteed deals.
The general myth about programmatic buying is that you can only purchase low-quality remnant inventory. The reality is that many premium websites don't even have remnant inventory because they qualify all of their a space as high quality.
The data show that one-third of publishers who sell programmatically (98% in the US, 72% Worldwide) offer both premium and remnant inventory.
RTB, Programmatic Direct, Private and Open Exchanges
There are several kinds of programmatic buying. Real-Time Bidding accounted for 92% of programmatic spending in 2014. However it's expected to fall below 60% by 2016.
Using RTB on an open exchange means buying inventory blind based on its distinct qualities, such as a category of the site. Think of buying a bag of apples from local producer vs. bag of apples where you pick each apple based on its shape, colour and taste without knowing where it's from.
Almost 90% of RTB happens on open exchanges, but private marketplaces (PMP's) are growing rapidly. PMP's are invitation-only RTB auctions, where a select group of publishers sell to a select group of buyers. It's transparent. You know who you're buying from.
Programmatic Direct means buying future inventory with a guaranteed number of impressions at a pre-negotiated price. You know the publisher and unlike RTB your top spot is guaranteed.
Preferred deals typically happen on an exchange, but the price is fixed (CPM, CPC, etc.). On the other hand, the inventory is unreserved.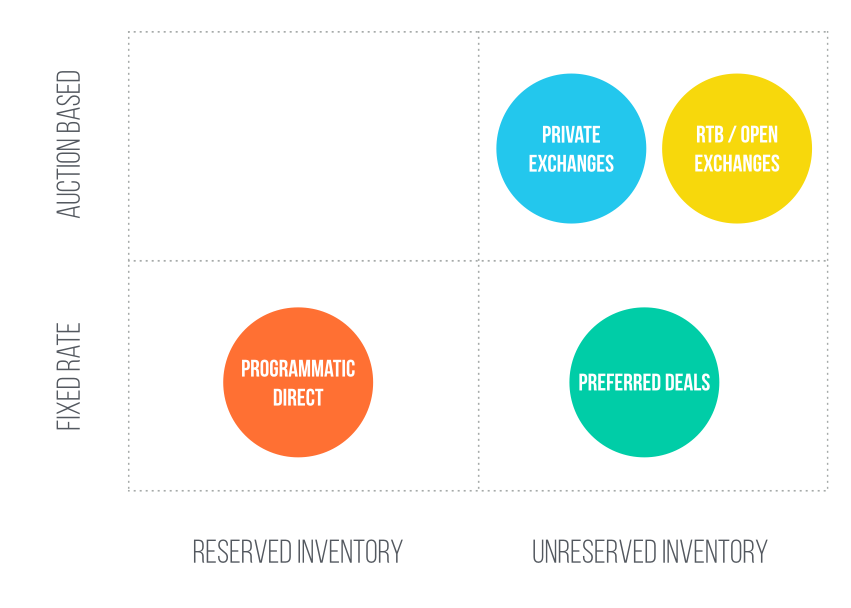 Source: Interactive Advertising Bureau, Image by Chartio
What's the Current State of Programmatic Buying?
In 2013, marketers spent $4.24 billion on programmatic ad buying, in 2014 the figure was just over $10 billion. That's around 10% of total digital ad spend worldwide.
That's a rapid growth rate, and some big brands are going all in. For example, American Express recently announced it plans to shift 100% of its online ad budget to programmatic channels, according to Ad Age. Procter & Gamble goes 75%.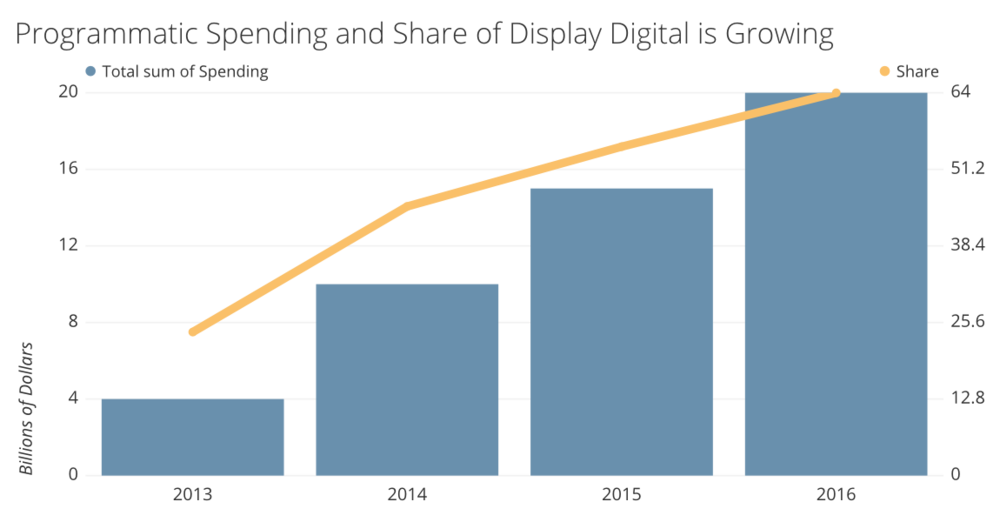 Source: eMarketer
Some channels of programmatic buying are growing even faster. For example, in the US, mobile advertising spending is believed to have overtaken desktop this year, yet only 27% CMOs have bought automated mobile ads.
Video is by far the fastest growing channel. It is expected to represent 20% of programmatic spending by 2018.
But issues remain. For example, mobile data are quite limited because of inability to use third party cookies, and Apple is opening up Safari in iOS 9 to ad blockers. Visiblity, bots and outright fraud are huge, unresolved issues. But the industry continues to grow, despite these hurdles.
Who are the Top Players?
While there's still a lot to improve, the programmatic marketplace is unlikely to see any further disruption in the short term. Right now the market is consolidating, with Google and Facebook seen as the likely winners. Meanwhile, it has become more difficult for ad tech companies to raise venture capital.
Beyond the leaders, there are many smaller competitors, each with its own value proposition, such as Rubicon Project, AppNexus, OpenX, and PubMatic.
In the space of 'related content' promotion, Outbrain and Taboola have staked out a strong position, taking advantage of the growth of content marketing. Disqus has recently teamed up with Xaxis to create a programmatic platform for native ads in its commenting platform.
In mobile, InMobi has launched a native advertising exchange in co-operation with Rubicon. With the reach of 759 million active monthly unique users across 30,000 apps, they're set to be a leader among 'independent' mobile exchanges.
Last year Clypd launched a programmatic advertising API for TV that's used by Google, BrightRoll, TubeMogul, DataXu, and Turn. Marketers can now buy inventory from Clypd partners such as Cox Media or Suddenlink.
The Programmatic Revolution has Just Begun
Programmatic buying is the future. We probably won't see 100% of online ads bought programmatically, but the number can reach 90-95%.
There is a lot to improve in the areas of analytics, security and relevancy, but the the industry is growing so quickly because t it works.
Making ads programmatically relevant based on third-party data on location, demographics and website behaviour to alter the creative can double the interaction and increase engagement by 50%.
Another study by BCG, sponsored by Google, found that such behavioral targeting can increase the ROI by 30-50%.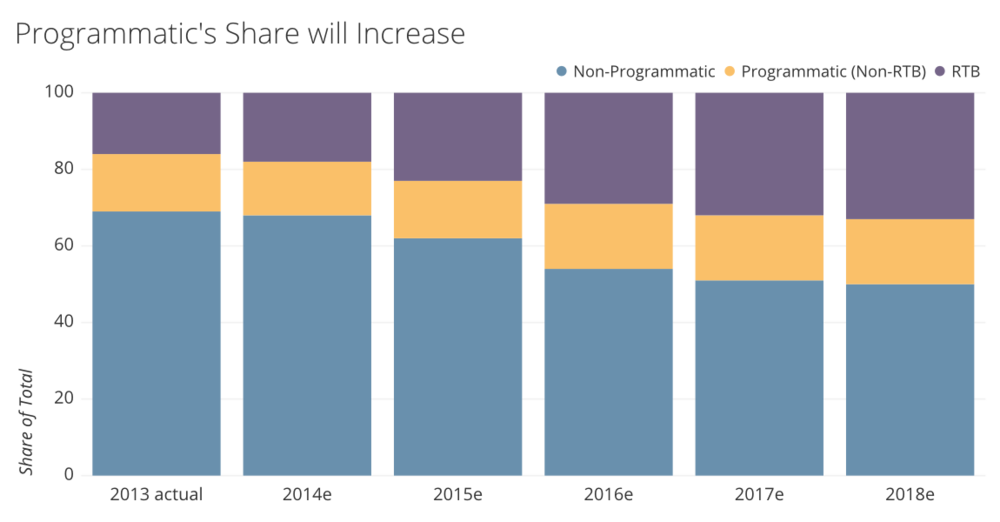 Source: BI Intelligence estimates
RTB is still dominant, but other forms of programmatic buying are expected to take over some of that share.
In future posts we'll look into best practices to help you stay on top of your game. To stay tuned, subscribe to our newsletter.