Today, everyone in Marketing from the Chief Marketing Officer to Marketing Coordinator needs to have a level of fluency in metrics, data and analytics. With the advancement in analytics tools, Marketing can now granularly measure their efforts and be more accountable.
Between Marketing Automation, web analytics, CRM, social media, web optimization, predictive data and any other marketing database—it amounts to a lot of data. It's up to Marketing to harness the power of all their data and turn them into insights via dashboards.
As we continue to realize the power of a great marketing dashboard, there's still a lot of noise around them and not enough education on how to create effective dashboards. For many, the hardest part in creating a dashboard is starting.
Today, we're publishing a new white paper that uncovers the importance of creating and leveraging marketing dashboards to make informed decisions. We'll provide the starting point, provide best practices in dashboard creation, data sources to use to power your dashboard and examples of marketing-focused dashboards.
Top Marketing Challenges
Historically, CMOs have been pigeonholed as cost centers, and that has been a limiting factor in their ability to have a seat at the revenue table—even though in reality, CMOs drive revenue. While that view is changing, a way to accelerate that view change is to show that marketing efforts are directly tied to revenue by analyzing data through dashboards.
Data has always been the secret weapon for CEOs during investor pitches, board meetings and communicating numbers with their organization. As CMOs become more conversant in data and need to show their revenue value, it's time for us to direct attention to dashboards.
To say the least, few CMOs (and marketers) would admit to having an absolute handle on their analytics. Shockingly, according to the 2017 CMO Survey, only 31.6% of CMOs use analytics in their decision-making.
Marketing efforts are often seen as something that's hard to quantify in terms of revenue impact, campaign performance, etc. However, as data proliferation increases and analytics technologies continue to improve for business users, we need to tie metrics to revenue.
In measuring metrics, it allows us to iterate, improve and replicate what's working. Metrics provide us invaluable insights into telling us the health of our campaigns, how many people are consuming our content and which referral program is working. We know all this, and yet few of us track all these metrics in a performance dashboard.
It's such an increasing problem that according to Hubspot's Ultimate List of Marketing Statistics, it's cited as a top marketing challenge:
65% said generating traffic and leads

43% said proving return on investment of marketing activities

28% said securing enough budget

26% said managing their website
All of these challenges could be resolved with dashboards that track lead generation, ROI on campaigns, marketing spend and budget and website analytics and optimization. When boiled down, a marketing dashboard provides a way to help your team get a better grasp on one of their most invaluable tools: data.
Today, too many companies lack an effective and easy way to analyze data. So, in addition to the aforementioned marketing challenges, marketers also face the following problems in:
Collecting data from disparate data sources

The ability to identify key metrics and easily analyze them

Gathering the insights needed to make smart, data-driven decisions
As CMOs can no longer afford to fall behind in attributing and measuring their performance, and as capturing data becomes easier, it's time to create robust marketing dashboards.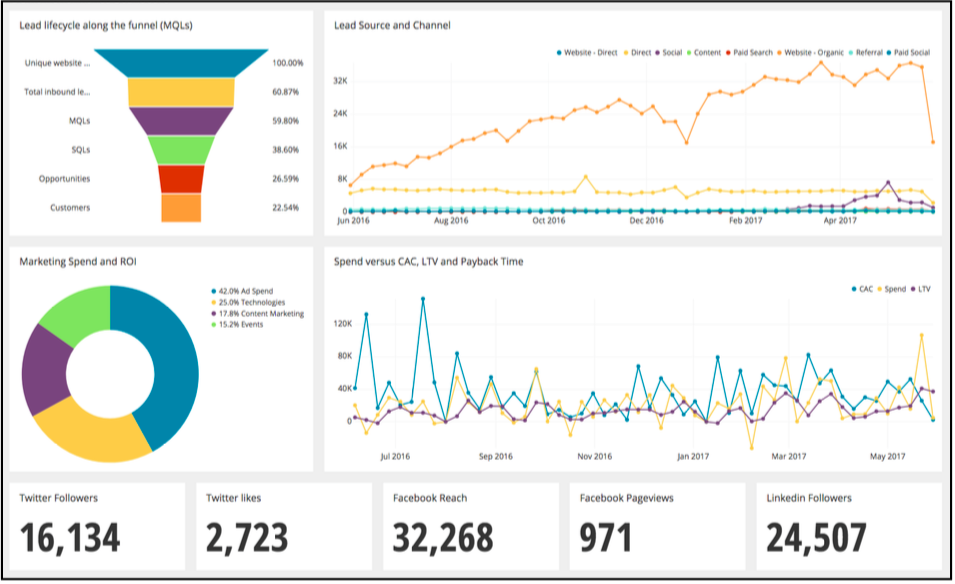 Download this white paper to learn:
How data is an invaluable asset to Marketing

Marketing dashboard best practices in organization and design

The seven must-have marketing dashboards
If you have yet to create marketing dashboards, this white paper will be core to your creation process. For more insight on how to implement these dashboards, download The CMO's Guide to Dashboards.