It's not always easy to share information with your customers. And it's even tougher to do it consistently and make it beautiful.
Our users love the Chartio dashboards they've been creating and sharing with their teams, and they've been looking for a way to give their customers access to a view of their data using Chartio.
Today, we're announcing Embedded Analytics - Chartio's solution for sharing data outside your company.
With embedding, Chartio users can provide their own customers with the same KPI's, charts, and indices from the same data sources and formulas that they use internally. This can make their developers and analysts more efficient and help them understand their customers' perspective better.
Inside your Chartio account, you can choose which dashboards to share, and how you're going to share them. Then copy and paste the code and encryption key in your web application to give any individual customer access to the charts you specify, with data from their account.
Chartio embedding is safe. It's designed from the ground up to give each end user a deep view of their own data, while keeping other data on the server secure. And Chartio's embedding is priced to make it worth doing.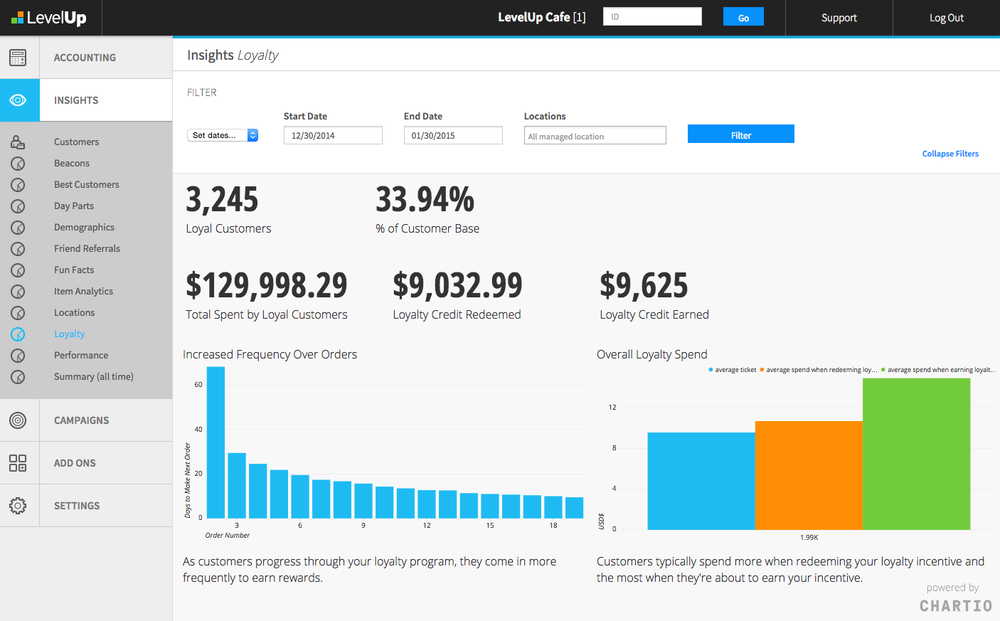 LevelUp, a one-touch payments and loyalty platform used by more than 14,000 merchants nationwide, is already embedding more than 40 business performance charts in their app, providing their customers deep access to their data. LevelUp chose to embed Chartio, because of its simple implementation process, but the benefits went beyond implementation.
LevelUp needed only one engineer and a couple of weeks to deploy embedded analytics to their customers. Now, using Chartio's intuitive drag-and-drop interface, account managers can respond to client requests by creating and delivering a graph or report with a few clicks.
To help merchants understand the true power of data analytics, LevelUp had a bit of fun with their data. Each merchant's dashboard now shows the average ticket value of customers named "Jane" who transact between 2 PM and 4 PM on Mondays, Wednesdays and Fridays.
We're really excited about embedding. It's going to help our customers share information with their customers, while saving them a ton of developer time. Want to know more?
Check out our case study with LevelUp or talk to us at sales@chartio.com.