Usability is one of the most important features of any platform. For Business Intelligence platforms, usability is paramount to user adoption and can signal the difference between invaluable insights and zero visibility.
Usability and user adoption often go hand in hand. As Business Intelligence (BI) platforms are still plagued by low user adoption rates, it's important that organizations strive to solve this problem. So how do you improve BI user adoption, so your business can get insights and make data-driven decisions? This all starts with placing an emphasis on choosing a BI platform with high usability.
The Value of Data
KDnuggets, a Machine Learning, Data Science Big Data, Analytics and AI blog, recently published an article that stated, "[2018] is the time for change. It's time for organizations to start being more intelligent with their data, to ensure there is greater alignment between business goals and needs and the way data is handled, processed, visualized and shared."
As we make our way through the first month of 2018, one thing is true: successful organizations are shifting their culture to be more data-driven. And through that, these organizations are beginning to see the value of data and transforming data into actionable insights.
One way to promote the alignment between business goals and the value of data is through data empowerment.
Data Empowerment
One part of data empowerment stems from democratizing data (which we've written about a lot). The other, and possibly even more important, part of data empowerment is providing a platform that enables everyone to explore their data.
Further in the KDnuggets article it stated, "better BI tools that more people can use. Data doesn't, after all, belong in one corner of a room - it belongs everywhere, to all stakeholders… it helps to ensure everyone is working together towards clearly defined goals, with the same tools and resources at their disposal."
Which brings us back to usability.
What is Self-Service Business Intelligence Usability?
G2 Crowd, a business software peer-to-peer review platform, recently analyzed Self-Service BI platforms and released an industry report on product Usability.
The report defines Self-Service BI as, "Self-Service Business Intelligence (BI) software empowers business users to investigate company data, and reveal patterns and insights. Self-Service BI products are designed to be set up and used by average business users without the need for input by IT."
Which, from what we learned earlier in this blog post, means that Self-Service BI platforms value data and enable data empowerment in a few ways:
Ability to consume data from multiple data sources (databases, file uploads, through ETL connectors, etc.)

Provides support in data modeling, blending and discovery

Enables users to easily create reports and data visualizations

Purchase and implementation ability by average business users with minimal IT involvement necessary
The Impact of Usability in Terms of Self-Service Business Intelligence
This all sounds great, but what does it mean? Investing in a Self-Service BI platform means that your organization is committed to enabling data empowerment and emphasizing the value of data. In turn, this all leads to data-driven decision-making and actionable insights, which will ultimately drive your business forward.
G2 Crowd's Usability report ranked 16 Self-Service BI platforms and gave each platform a Usability score that was calculated using G2 Crowd's proprietary algorithm, with an emphasis on reviews and the following factors:
Ease of Use

Ease of Administration

Meets Requirements

Average User Adoption
Here are the results of G2 Crowd's Usability report: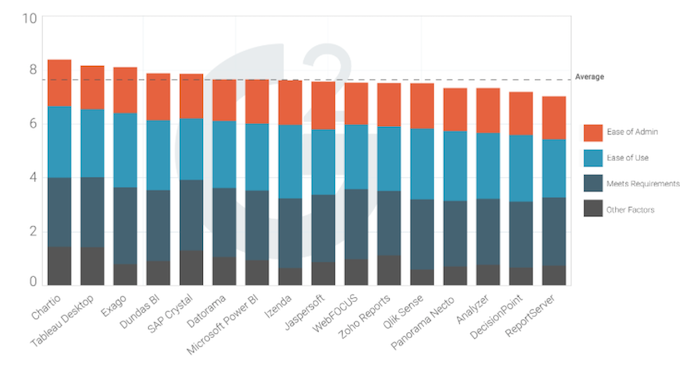 (Source: G2 Crowd - Usability Index for Self-Service Business Intelligence)
What Should Usability Mean to You?
While you can look through G2 Crowd's report and sift through the data, what should the term usability mean to you? A few things:
Usability means that the platform is usable

Usability means that you'll have a higher adoption rate (as opposed to the industry-wide low user adoption rate for BI platforms)

Usability means that the platform meets your requirements, ranging from technical (data infrastructure, security, etc.) to business requirements (connecting to all your data sources)

Usability means the Self-Service BI platform inherently values data and wants you to succeed

Usability means data empowerment or data democratization
Conclusion
Continue reading G2 Crowd's Usability report and read reviews from Self-Service BI customers on how they drive action and glean insights from the highest-rated Self-Service Business Intelligence platform in terms of usability.
Sign up to get news and analysis in your inbox