What are the Most Useful Google Analytics Reports for E-Commerce
Google Analytics is a very powerful web analytics tool that can help you understand many facets of your business. This tutorial will go over the most useful reports for an e-commerce organization.
Set Up Google Analytics
In order to use Google Analytics, you have to set up analytics tracking on your site. For the advanced e-commerce metrics you'll also have to set up e-commerce tracking.
In the examples, we are using the Google demo account which is of the Google online
property that sells Google-branded merchandise. If you want to follow along and have the data look the same, sign up for the demo account and in the date range in the reports select 1/1/2018 - 2/28/2018.
Google Analytics Reports for E-Commerce
E-Commerce Fundamentals
The most fundamental E-Commerce metrics - revenue and conversion rate - can be found in the top section of the **Ecommerce Overview **report. Simply navigate to Conversions - Ecommerce - Overview.

Additionally, you can measure the success of individual products at the bottom of the Product Performance report, also under the Conversions - Ecommerce section.

While these to reports give you information about your key metrics, there are additional reports that will give you very valuable insights into your business.
Understanding Your Customers and How they Interact with Your Site
The Channels report will show you how your customers get to your site - both the total traffic (users, sessions) as well as the traffic that converted on your site (revenue, conversions). Navigate to Acquisition - All Traffic - Channels. Use this information to get a better understanding of your marketing channels and make decisions on marketing budget allocations.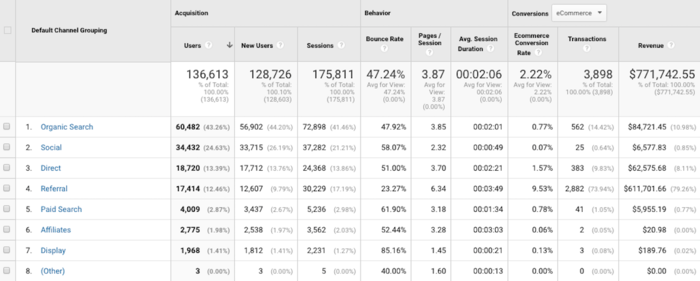 While the Channels report gives you insight into where your users come from, the Behavior Flow report lets you see how they navigate through your site. Find this report in the Behavior section. While this report is a bit hard to follow at first, Google provides a great guide to walk you through it.
The Mobile Overview report tells you what devices your users are on when they interact with your site. This can be helpful for understanding how to attract these users and to prioritize your Product and Engineering resources across the platforms. You can find this report in the Audience - Mobile section.

Understand the Long Term Health of Your Business
While the reports mentioned in the previous sections are ones that should be monitored on a regular basis and describe day-to-day operational performance, there are two key reports in Google Analytics that speak to the long-term health of your business.
The Lifetime Value and Cohort Analysis reports give insights into the long term value of the users you acquire. You can find both reports in the Audience section of Google Analytics.
The lifetime value report allows you to plot the value of your customers through their first 90 days and lets you cut the analysis by acquisition channel. This gives you a richer perspective of the value of your marketing channels. On the other hand, the cohort analysis allows you divide users into cohorts based on when they were acquired and follow their behavior for up to 90 days, so you can compare cohorts against each other.
Conclusion
Google Analytics provides many different reports to drill into different aspects of your business.