The Non-Incubator Incubator: Founder's Den
Posted by on June 8, 2011 -- Chartio
As proud "Denizens" of Founders Den, we had the privilege of participating in a quasi demo-day event. The guest list was very impressive, from Elad Gil of Twitter, Manu Kumar, Dev Khare, Dave Morin, and even Gavin Newsom. That's right. Gavin Newsom saw us pitch.
A picture of our lair, err…den.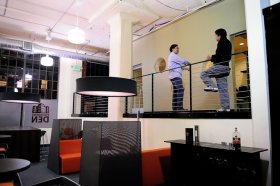 We were preceded by Cake Health, who are trying to help the average consumer make sense of the nightmare that is healthcare spending and insurance claims. And right after our demo, we got to see DotCloud do their typically great presentation. Their best slide by far asked a rhetorical question: "What's it like to be a developer in 2011." The speaker, Solomon Hykes, paused. Then, in big red letters the slide flashed, "Awesome!" We couldn't agree more.
Overall, working in Founders Den has been a great experience. The diverse mix of companies, from different spaces and both the consumer and B2B world, encourages an interesting and blended environment where you, as an entrepreneur, are exposed to new ways of seeing the world. It's also just very exciting to be in the same place with other eager, smart and motivated folks.