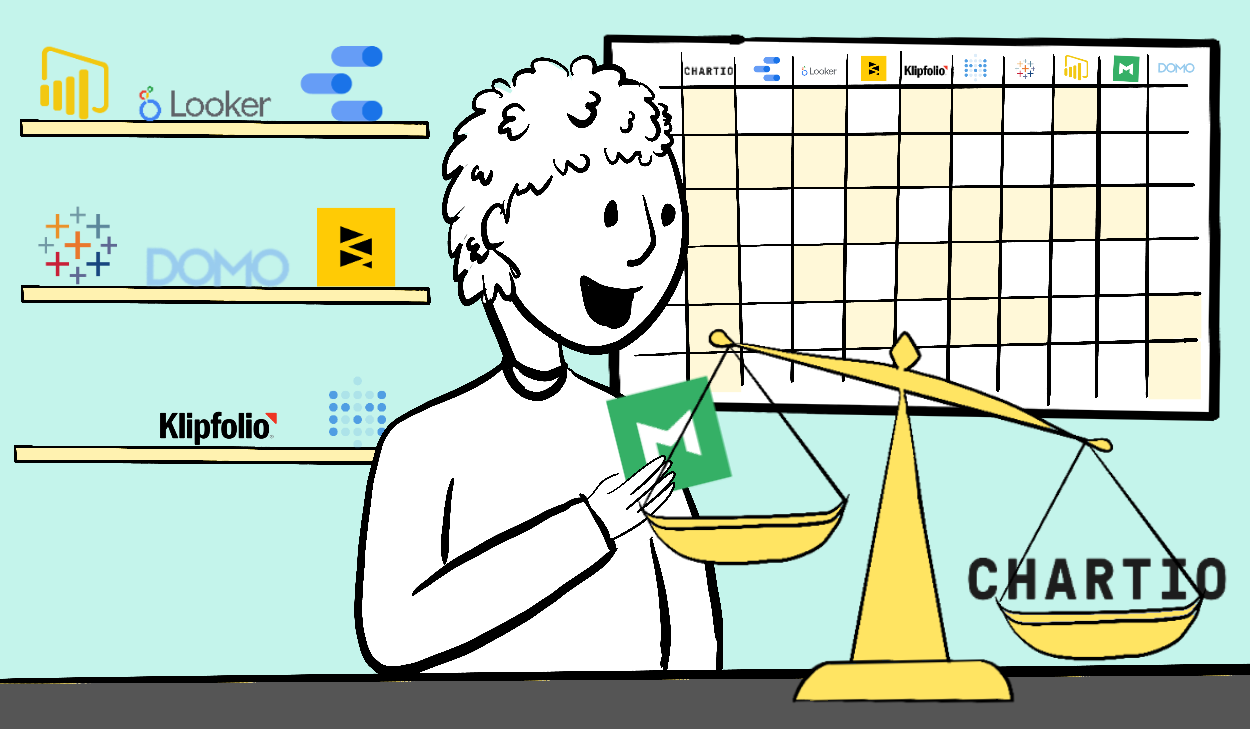 There are many great business intelligence (BI) platforms out there that can help make your data teams better at their jobs, but only Chartio makes data truly accessible to everyone.
Chartio takes a fundamentally different approach, which becomes clear in head-to-head comparisons. We believe data shouldn't be just for data teams. Data should be for everyone.
Every feature we ship, every process we introduce, every article we write — all of it has this belief at its core.
Visual SQL gives every employee the power to query data without needing to learn or write SQL. It generates the query for you.
Dashboards, which you can collaborate within and easily share in numerous ways, makes it easy to understand and act on insights together.
The Data School walks you through everything you need to know about business intelligence and using data.
We could go on, but you're here for the hard details. Let's dive into what makes Chartio different from other business intelligence tools.
How Chartio stacks up
|   | Chartio | Power BI | Looker | Google Data Studio | Tableau | Sisense for Cloud Data Teams | Domo | Mode | Klipfolio | Metabase |
| --- | --- | --- | --- | --- | --- | --- | --- | --- | --- | --- |
| SQL |   |   |   |   |   |   |   |   |   |   |
| SQL Access for Everyone | Yes | No | No | No | No | No | No | No | No | Limited |
| Version Control | Yes | Limited | Yes | No | Yes | Yes | Yes | Yes | Limited | Yes |
| Advanced Post-Query Transformation | Yes | Yes | No | No | Yes | Yes | Yes | Yes | No | Limited |
| Automatic Query Writing | Yes | Yes | No | No | Yes | Limited | Limited | Limited | No | Yes |
| Schema |   |   |   |   |   |   |   |   |   |   |
| Full Schema Data Preview | Yes | Yes | No | No | Yes | Yes | Yes | Yes | No | Yes |
| Direct Schema Exploration | Yes | Yes | No | No | Yes | Yes | Yes | Yes | No | Yes |
| Cross-Schema Joins | Yes | Yes | Yes | No | Yes | Yes | Limited | No | Limited | No |
| Dashboards |   |   |   |   |   |   |   |   |   |   |
| Time to First Dashboard | Minutes | Weeks | Weeks | Minutes | Weeks | Weeks | Weeks | Weeks | Days | Weeks |
| Drag-and-Drop | Yes | Yes | Yes | Yes | Yes | Yes | Yes | Yes | Yes | Yes |
| In-Dashboard Chat | Yes | No | No | No | Yes | No | No | No | Yes | No |
| Dashboard Embedding | Yes | Yes | Yes | Yes | Yes | Yes | Yes | Yes | Yes | Yes |
| Power User Features |   |   |   |   |   |   |   |   |   |   |
| Advanced Permissioning | Yes | Yes | Yes | No | Yes | Yes | Yes | Yes | Yes | Yes |
| Schema Editing | Yes | Yes | Yes | No | Yes | Yes | Yes | No | No | Yes |
| Data Advisors | Yes | No | Yes | No | Yes | Yes | Yes | Yes | Yes | No |
| Alerts | Yes | Yes | Yes | No | Yes | Yes | Yes | Yes | No | Yes |
| Blending | Yes | Yes | No | Yes | Yes | Yes | Yes | Yes | No | No |
| Modeling | Yes | Yes | Yes | Yes | Yes | Yes | No | Yes | No | Yes |
| Caching | Yes | Yes | Yes | Yes | Yes | Yes | Yes | No | Yes | Yes |
| On-Prem | No | Yes | Yes | No | Yes | Yes | No | No | No | Yes |

What is Chartio?
Chartio (That's us! 👋) is a business intelligence tool that makes data usable for both technical and nontechnical folks. Our goal is to empower everyone to understand their business's data so they can do their jobs better.
What makes Chartio different?
Our main differentiator is our query interface, Visual SQL, a visual way to code SQL that allows anyone to build queries with no code. Here's a walk-through from Dave, our CEO:
Visual SQL is easy to use for nontechnical people, and it doesn't force technical people into a new way of coding. It is SQL, but it's presented in a way that eliminates repetitive and redundant coding. And, at any time, you can hop over to the code itself and edit it directly.
With Visual SQL, Chartio eliminates the barrier for entry for SQL newbies and dramatically speeds up the workflow for everyone else. No other BI tool walks this line. The result is that our customers can truly democratize data, putting the power of business intelligence into the hands of every one of their employees.
Learn more
1. Power BI
Power BI is Microsoft's business intelligence tool that's designed mainly for companies that use the Microsoft ecosystem. It's a massive and powerful piece of software that takes quite a bit of investment to get up and running.
Power BI vs. Chartio
Put simply, Chartio is easier to set up and use. As you can see in the rubric above, the capabilities of Power BI and Chartio are comparable, but Chartio's set up and maintenance are a cinch in comparison.
When New York Shipping Exchange (NYSHEX) was looking for a BI tool, they expected it to take months to get everything up and running. But according Arjun Anand, NYSHEX's senior VP of engineering, "it only took a day to get everything going and then a week to get the initial dashboards to show what we could accomplish."
In comparison, Power BI has a much steeper learning curve, with a large time investment to get it running. The consensus among Quora answers is that it takes about a month to understand how to use Power BI. If you don't already know how to use Power BI, that's one month to your first dashboard, at best.
Learn more
2. Looker
Looker is a business intelligence tool focused on data modeling. It was recently acquired by Google Cloud Platform, so its future as a stand-alone tool is in flux.
Looker vs. Chartio
At its core, Chartio is quicker and more agile than Looker. When searching for a BI tool, Daniil Bratchenko, VP of business operations and analytics at Data Robot, ran a test between Looker and Chartio to see which BI platform was easier to use (we highly recommend doing this no matter what BI tools you're considering).
In the end, Chartio came out on top. "We built these dashboards in both Looker and Chartio, but in Chartio the process was way faster and the experience was far more intuitive," Bratchenko says.
But we would be remiss if we didn't mention Looker's powerful modeling capabilities using its proprietary LookML language. It does take time to learn, but it's something to consider as you weigh your options. You can model data with Chartio as well. It's done automatically when you connect a data source, and you can easily manage it without the need to learn a proprietary language.
Learn more
3. Google Data Studio
Google Data Studio is a data visualization tool from Google. There's a free version you can use with your Google account as well as a paid version called Google Data Studio 360.
Google Data Studio vs. Chartio
Chartio is a true business intelligence platform, while Google Data Studio is a data visualization tool. BI platforms should help you gather, understand, and visualize data. Google Data Studio, and even its paid counterpart, are just for visualizing data. To query data and do other BI functions, you need to use Google Data Studio alongside other products, such as Google BigQuery.
Chartio is the whole BI package in one. From data integration to exploration to visualization and even to collaboration.
Learn more
4. Tableau
Tableau is the legacy giant of the business intelligence space. Its made its name with its powerful visualizations and its reputation for its steep learning curve.
Tableau vs. Chartio
Chartio is easy for everyone to use across your company. Tableau tends to be a tool that only a few employees know how to leverage. Reddit user adventuringraw describes it this way: "The Tableau guy in my squad is in HIGH demand, there's multiple teams fighting over him. God help him if he ever wants to do something other than Tableau, haha."
There is no need for a "Chartio guy" at our clients' companies. But there are a lot of "Chartio people."
For example, 90% of employees at Clever, an education technology startup, actively use Chartio. They even have a club called the "Number Munchers," whose members share their Chartio findings. This is data democratization, and Tableau hasn't found a way to match it.
We think there are two reasons for this:
Tableau requires that you model and transform data before you are able to explore it. Chartio will do this automatically for you.
Tableau requires SQL knowledge to use. VisualSQL does not require coding knowledge.
Learn more
5. Sisense for Cloud Data Teams
Sisense for Cloud Data Teams (formerly known as Persiscope Data) is an enterprise-focused business intelligence tool that now lives in the larger Sisense ecosystem.
Sisense for Cloud Data Teams vs. Chartio
Chartio focuses on ease of use for end business users and power users alike. Anyone from college startups, like Koodos, to Reuters, the world's largest multimedia news provider, can use Chartio.
Sisense for Cloud Data Teams is for, well, cloud data teams. Its features are aimed at the power user, to the exclusion of everyone else. You can use R, Python, and SQL to explore your data in Sisense, but you won't have college students or CMOs using it.
Learn more
6. Domo
Domo is a business intelligence tool founded with an executive-first philosophy. It made waves as a unicorn and is now an established player in the industry.
Domo vs. Chartio
Chartio's main differentiator is VisualSQL, while Domo's unique features is its cards system. Both features aim to make exploring your data easier, and both succeed. VisualSQL, though, makes SQL easier to use.
In Domo, you use SQL to create data flows that can eventually populate cards. Queries are essentially the realm of developers, whose job it is to make the data set usable, so end business users can create cards out of it. Instead of giving every user the power to use SQL, Domo puts that responsibility on developers.
Learn more
7. Mode Analytics
Mode analytics is a data platform that has some BI capabilities, but its focus is on hard data science.
Mode vs. Chartio
Chartio removes the bottleneck many companies face when it comes to their data. Often, before our clients started using Chartio, their data analysts and engineers managed data requests from across the company. This took time away from their other responsibilities and slowed the whole process down.
Josh Martow, director of business intelligence at Thriver, put it this way: "We needed a way to ask questions and get answers right away, without relying on engineers to write code. . . . [With Chartio], I was cranking out new charts and dashboards in no time."
While great for engineers, analysts, and data scientists, Mode doesn't answer for this bottleneck. Mode lets you use R, Python, HTML, CSS, and SQL to explore and use your data. But this doesn't help your nontechnical users find answers on their own.
Learn more
8. Klipfolio
Klipfolio is a dashboarding tool with some light business intelligence capabilities. Its core functionality is built around Klips, which are proprietary prebuilt XML files used to create dashboards.
Klipfolio vs. Chartio
Both Chartio and Klipfolio can build dashboards very quickly. The difference is in how they do it.
As a full business intelligence platform, Chartio focuses on instituting a better, easier-to-use data architecture and querying system. It's quick to build dashboards with Chartio because the fundamentals of how your data is handled are sound.
Klipfolio relies on Klips to provide a quick dashboard. It's a great solution for a company that needs dashboards fast, but it's not something to reliably build your data infrastructure around.
Learn more
9. Metabase
Metabase is an open-source business intelligence tool with a unique natural language system for querying data that enables you to "ask a question."
Metabase vs. Chartio
Chartio's Visual SQL and Metabase's "Ask a Question" function are both designed to make queries easier for the end user. The difference is that Visual SQL helps SQL newbies and SQL veterans alike, while Metabase's system is focused on nontechnical users exclusively. Peter Weinberg at Panoply describes Metabase's question system as "SQL but not quite," and it can throw some SQL veterans off.
But Metabase is open source and self-hosted, which provides you a great deal of control. Not to mention it's free. If you know exactly what you want out of your BI platform, Metabase isn't a bad pick. But if you need help, you'd better hope their community or documentation has the answer. Otherwise, you'll end up paying for their enterprise support service, which can be just as expensive as other BI tools.
In comparison, Chartio is super simple to set up and comes with a dedicated Data Advisor who can help you get the most out of your data.
Learn more
Get started with business intelligence today
The goal of business intelligence is to use your data to make better decisions. Why limit this ability to a select few?
Chartio is designed from the ground up to give everyone in your organization the power to use data. Other platforms come close, but none of them are as easy to set up, use, and integrate into your day-to-day processes.
The best part is that you can get started right now with a free trial.