Create a Dropdown
Click Add Control from the dashboard sidebar menu and select Dropdown. You'll be redirected to the Data Explorer. Find the column you want to use for your category and drag it to the Dimensions field. The values in that column will populate a dropdown menu, which you can use to filter your charts.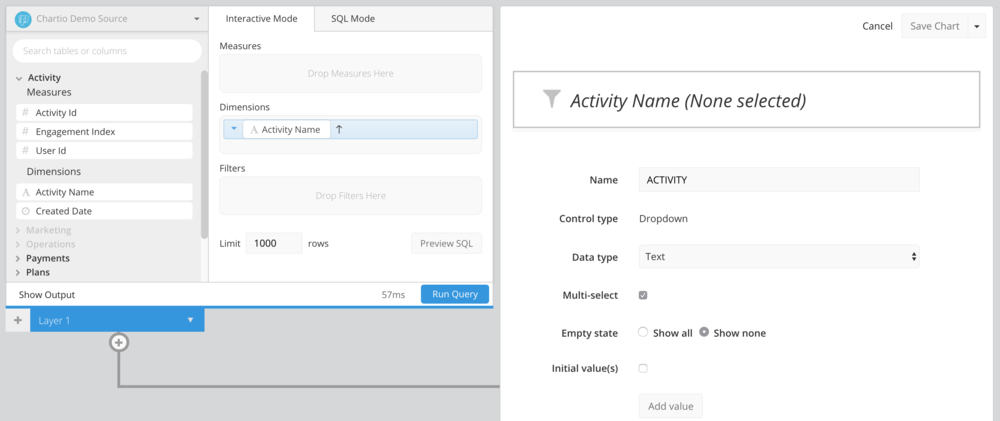 Key-value pair dropdowns
You can drag a second Dimension into your categorical dropdown to display one value but filter by another. Check out our tutorial on key value pairs in a categorical dropdown.
Dropdown Settings
Data type: Select the data type for your dropdown's results (Text, Number, Boolean, Date).
Multi-select: Check this checkbox to allow filtering by multiple values at once. If selecting multi-select, be sure your connected chart's filter is "is one of" and not "equals" or "like".
Empty state: When no values are selected in the dropdown, you can either Show all rows in the attached charts or Show none.
Default value(s): Check this checkbox to set custom filter value(s) on load.
Connect a Dropdown to a chart
Open the chart you'd like to connect to your Dropdown in the Data Explorer. Drag the column you want to filter your dataset on into the Filters section, select the filter type, and select your variable name.
A couple things to keep in mind:
Your Dropdown must have the same data type as the column you're filtering on.
Your filter type must match the type of Dropdown you're using. For example, if you've left Multi-select unchecked in the Dropdown's settings, make sure you don't use filter type "is one of".