Adding and removing team-based access
Teams
Team-based dashboard access
To see the access granted at the team level, go to the Teams Page (toggle the ellipsis button in the main menu) and select Teams. Once there, select a team from the Left Side Panel to open it in the main window. From the main window, click on the team name to expand the details about user, dashboard and data source access.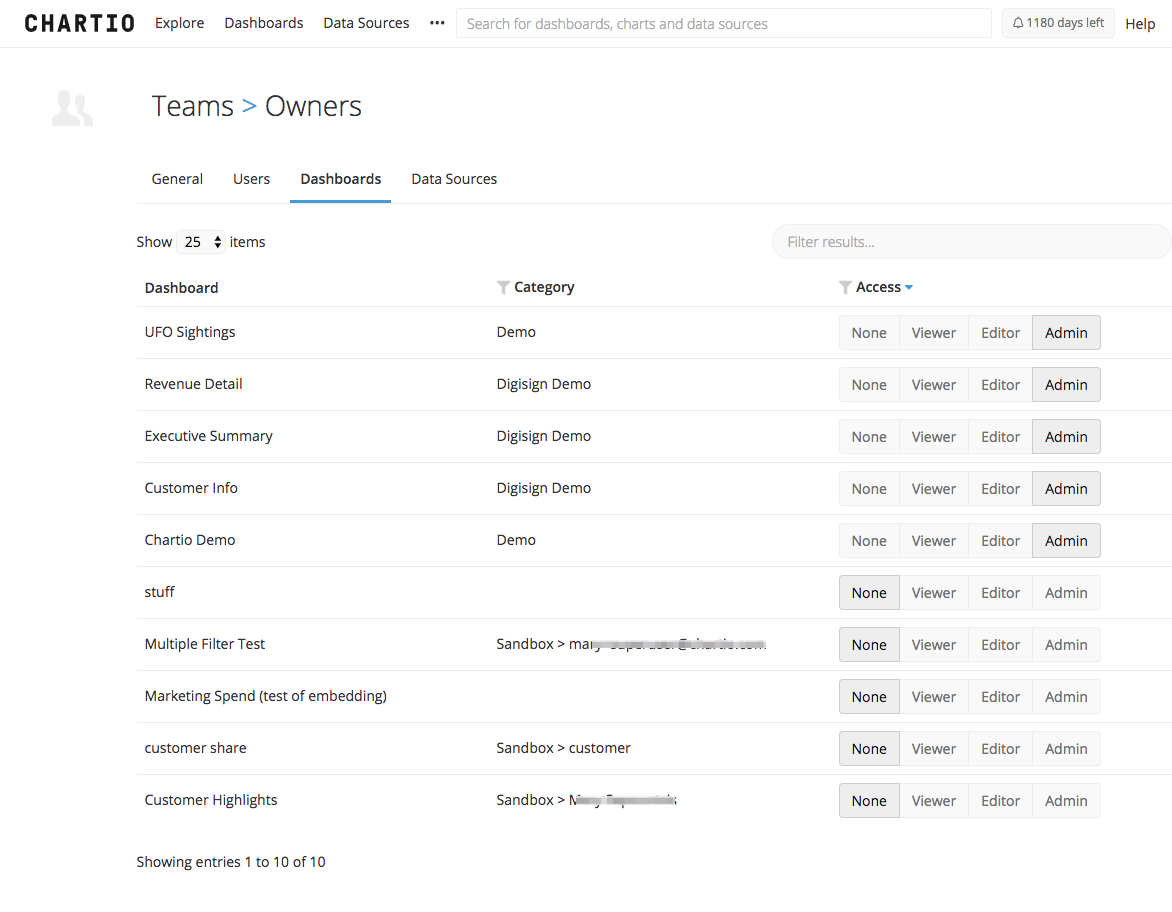 Data source access permissions for teams
Team management in Chartio becomes increasingly important as the number of users grow in your Chartio account. Not only is this important for keeping track of which users are using Editor vs. Viewer licenses, but it's also important for ensuring access to sensitive dashboards is properly assigned.
Assign access permissions at the team level, and not the individual user level. This applies to dashboard access as well as data source access.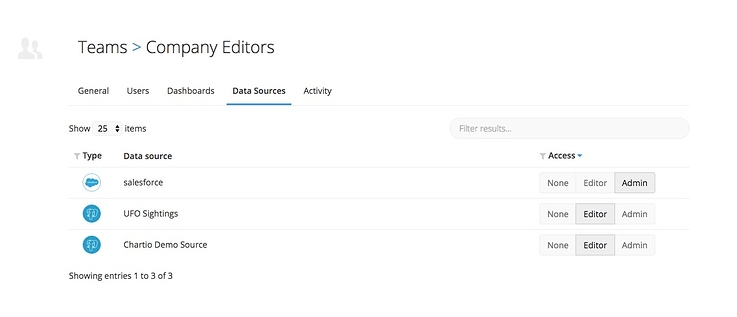 How to delete a team no longer used
If you are no longer using a team and would like to remove it altogether, you can do so following these steps from the Team page:
1. Select the team you want to delete from the left side menu. Click on Manage Team to the right of the team name to open the settings.

2. From the teams' setting page, click the Delete Team button.

3. As an added measure to make sure you want to remove the team and any remaining members' permissions, we will ask you to type the team name in the box. Once complete, click Delete.

You will then be taken back to your Teams page and should see a message on the left bottom of your screen saying that you successfully deleted the team.

Note: If you are deleting a team, all users remaining in the team will lose access to the dashboards associated with that team.
Added from dashboard team
If your organization has the Added from Dashboard team, then a new user was invited to Chartio by being granted access to view or edit one of your dashboards in Chartio. The Owners of your Chartio account (Owners Team) will be made aware of the new user and need to approve their access. This team is intended to serve as a holding place for users until they've been put on a team and the team itself cannot be granted access to any dashboards or data sources.