Quick Start
New to Chartio? We know documentation can be a bit daunting, so we've highlighted some topics to help you get started.

Access to Chartio
Sign up for a free trial or log in at chartio.com.
Connect to data
Chartio is a data visualization tool, so the first step would be to find some data. To add data to your Chartio account, navigate to the Data Source tab from the top navigation bar. From there you can:
Open Visual SQL
Once you have some data, it's time to get started! There are several ways to open Visual SQL, Chartio's chart builder interface, to create charts in Chartio. For this guide, we'll access it from the top navigation bar by clicking the Chart tab. You can access this tab from any page within Chartio to quickly analyze data without the need to save it to a specific dashboard.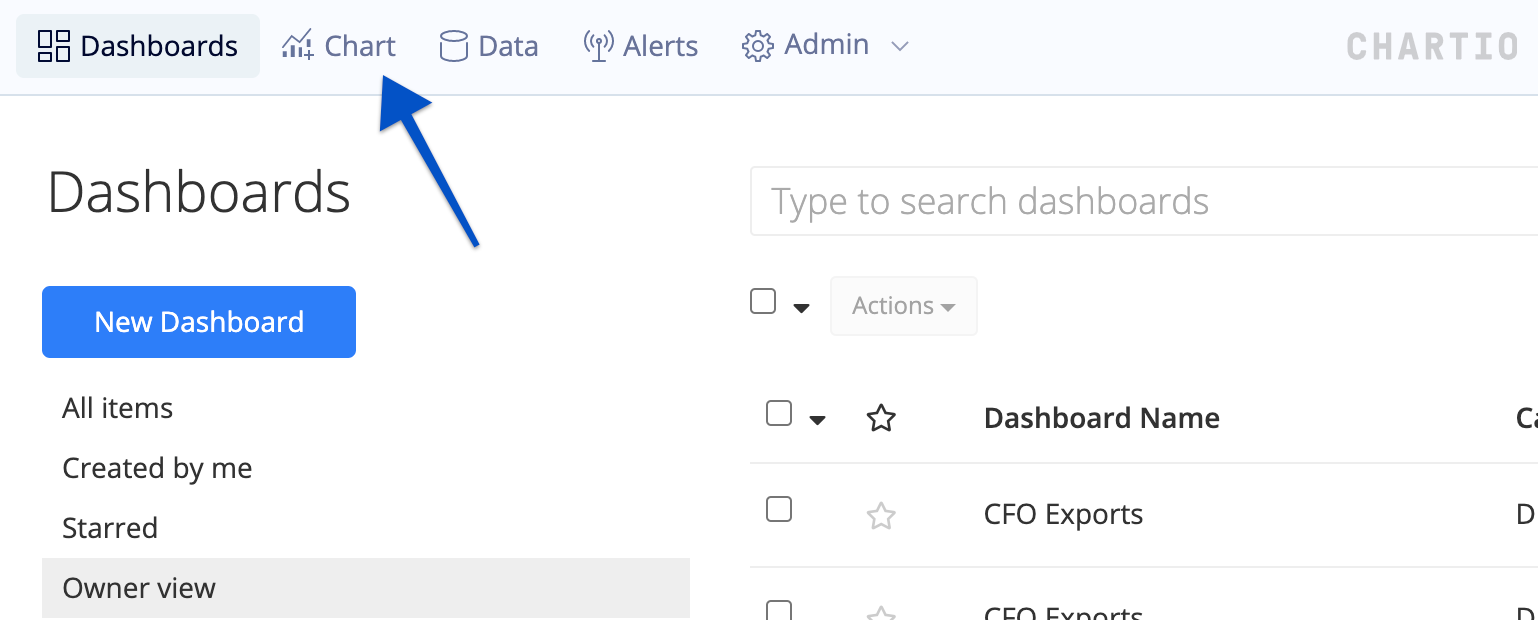 Create a chart
Chartio's Visual SQL interface makes it easy to get up and running quickly and start getting insights from your data. This guide will walk you through the steps to create your first chart. No SQL knowledge required.
Save results to a dashboard
Charts and tables in Chartio are organized on dashboards, which can be easily created, updated, and shared. When you've finished creating your chart, click Save to Dashboard in the upper right of the screen and you'll be provided options to save your chart to an existing dashboard or create a new dashboard.
Share with colleagues
Don't keep it a secret! Chartio has several options to share your work:
---
Create a Chart
Once your data is brought into Chartio, you can easily start creating charts by simply adding the columns you want from your data source. We'll start with a quick example to get the number of documents created over time using our Dundersign Demo Data data source.
Creating a basic chart
From the top navigation, click Chart to open Visual SQL.
The other path to Visual SQL is through an existing dashboard. From the Dashboards page in the top navigation, click New Dashboard or select an existing dashboard. From the dashboard sidebar, click Add Chart.
Select your data source from the top-left dropdown.

Click +Add Column to select a column from your data source.

For each added column, select how it will be displayed (aggregated, grouped, etc.) from its Aggregation menu in the Result Table.

Click Run Query.

Change chart type (optional).

To add a chart title and customize the chart, click the Gear icon near the top-left corner of the Chart Preview to change Chart Settings (optional).

Click Save to Dashboard and choose a dashboard from the pop-up or create a new dashboard.
Visual SQL Pipeline and Actions
Query Action
The initial Query Action is where you build your query, selecting and modifying the data you wish to visualize.

Other Actions in the Pipeline
If you need to make any changes to your query results before you put them into a chart, adding other Visual SQL Actions to the Pipeline can be incredibly useful. Filter or group your data, add calculated columns, and more.
To view a list of available Actions and instructions for how to add them, see our Visual SQL Actions documentation.
Chart Types
Chartio offers many useful chart types. Some chart types require specific column formatting and data types. To view our chart types and the format required for each, please see our Chart Types documentation.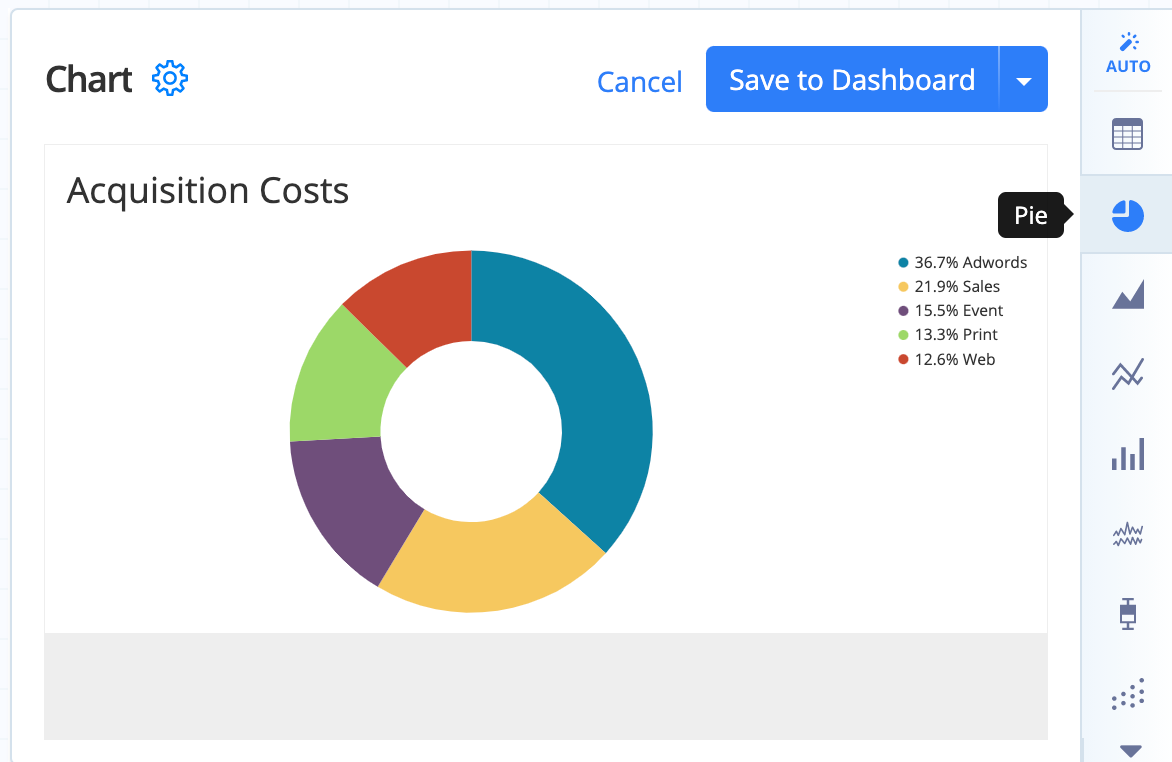 ---
Advanced
Foreign Keys
If you'd like to make a chart with data from multiple tables in a database, you'll need foreign keys in your schema. Foreign keys tell Chartio how to combine multiple tables together in one query. When building your query, you'll know if foreign keys are not set up when a table you want to use is disabled in Visual Mode.
Dashboard Controls
Dashboard Controls allow you to dynamically filter multiple charts at a time using a dashboard widget such as a Dropdown or a Text Input.
Learn more about Dashboard Controls
Drilldowns
Chartio's Drilldown functionality allows you to click an area on a chart to update a Dashboard Control value. The Dashboard Control then updates any charts connected to it.
---
Support channels
We want to ensure you have everything you need to be successful in Chartio. If you ever get stuck or have any questions, we offer plenty of support channels and resources to help you get the answers you need:
Channel
Description
Docs & FAQs
Our Documentation is our written repository of product guides–organized by topic. We cover the specifics you need to know about product functionality. Each topic category also contains an FAQs folder with supplemental articles highlighting great tips and how-to instructions for frequently asked questions.
Videos
Our videos are often embedded in our Help documents to provide an additional resource and examples of utilizing different areas of Chartio. You can also subscribe to our YouTube channel and find all of our videos indexed there.
Webinars
Chartio has a variety of webinars available. Feel free to sign up on our site.
In-app chat
If you have a quick question while working in Chartio, leverage the chat button in the lower right-hand corner to reach us during our business hours, usually, 7 am to 5 pm Pacific time Monday through Friday.
Email
Reach out to us at support@chartio.com with any technical questions. Don't hesitate to include screenshots, links to specific charts or other information about what you're looking to do or running into.

If you have questions about your subscription or payments, contact us at accounts@chartio.com.
Working sessions
If you would like to schedule some time to work together with one of our Customer Success team members, you can sign up for a Working Session to work through your questions together.
Office hours
If you're based in the Bay Area or in town for a few days, come visit Chartio's San Francisco office during our office hours. Simply sign up for a time slot to go over questions, your account, or anything else you'd like to discuss. Office hours are held every Thursday from 1 pm to 3 pm Pacific time.