Once you're created a dashboard, you can use it a number of ways, from sharing it with others, cloning it to tweak and re-use, and re-arranging the charts and elements within it.
You can also manage your dashboards to make sure you're always viewing the latest iteration by using our Dashboard Cleanup feature and utilizing the Archive and Trash options.
Dashboard Cleanup
Permissions required: Owner
The Dashboard Cleanup feature allows you to quickly bulk archive dashboards that are no longer in use.
On the dashboard homepage, you'll see a button in the left sidebar called Dashboard Cleanup. Click it to open the Archive modal.

By default, the preview shows dashboards that haven't been viewed by anyone in your organization in 12 months. If desired, change the Number of Months input and click Preview to update the preview.
When ready, click Archive to archive the dashboards listed in the preview.
Note: Embedded dashboards are excluded from the Dashboard Cleanup tool.
---
Sharing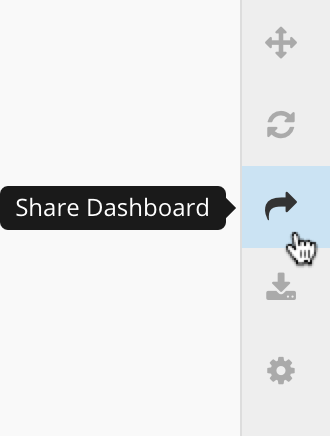 Permissions needed: Owner, dashboard Admin/Editor
Existing users
Add to dashboard
Easily grant access for one or more users or Teams to a dashboard via the Share Dashboard button in the sidebar menu or by opening the Access tab in the dashboard Settings. You can choose to send an email notification and add a personalized message, to provide some context for the dashboard.
By default, the added user or team will be added as a Viewer. To grant them a different level of access, select either Editor or Admin from the dropdown before clicking Share to grant dashboard access.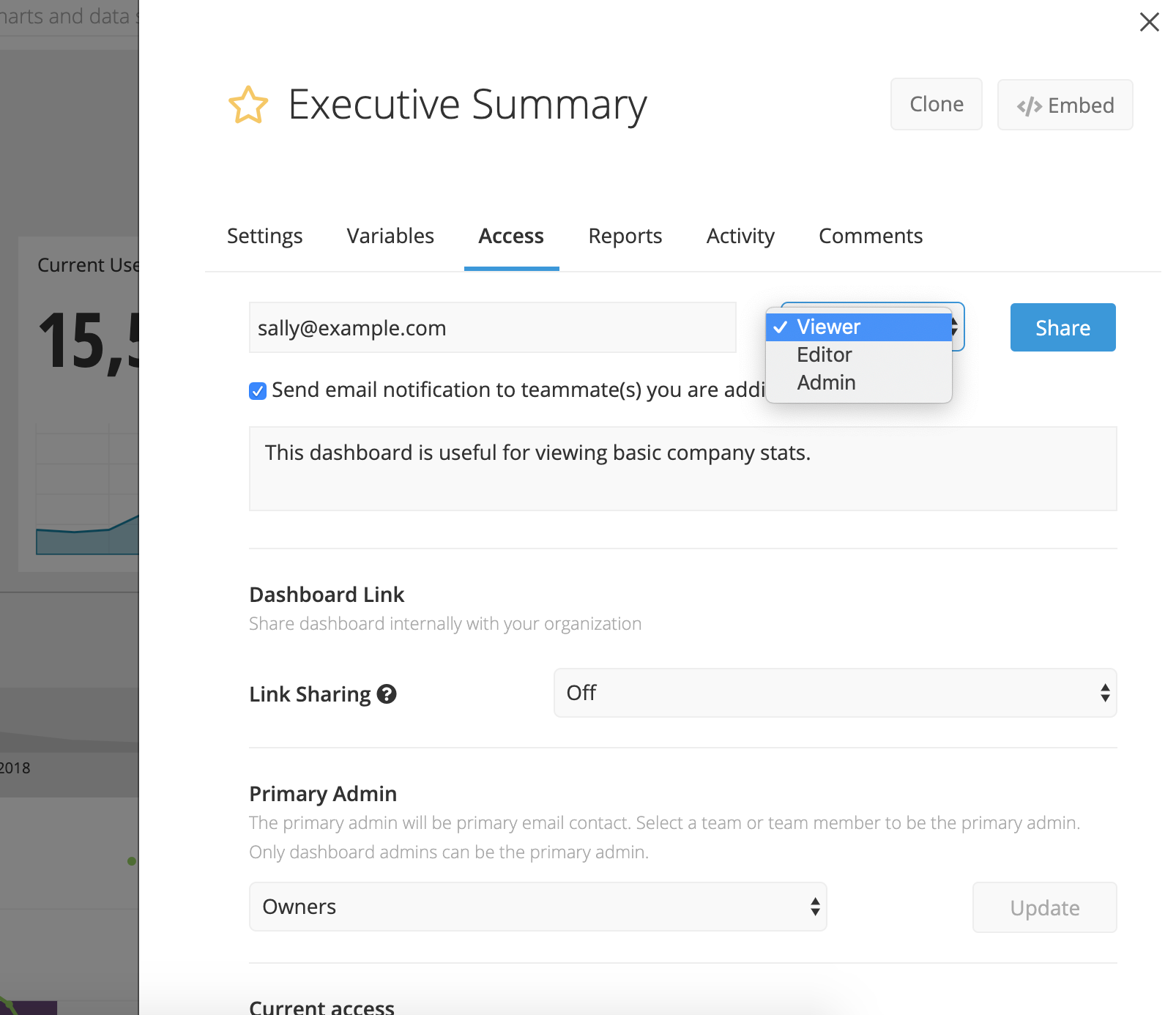 Link Sharing
You can also quickly share dashboards with existing Chartio teammates using a special URL that grants Editor or Viewer access automatically.
Note: To share a link with a user who is not yet in your Chartio organization, you must first add them to a team.
Enable Link Sharing
From a dashboard, click Settings then switch to the Access tab. In the Dashboard Link section, select the Link Sharing dropdown and choose either View or Edit access. Click Copy Url to copy the sharing URL, and then share the URL with your Chartio teammates.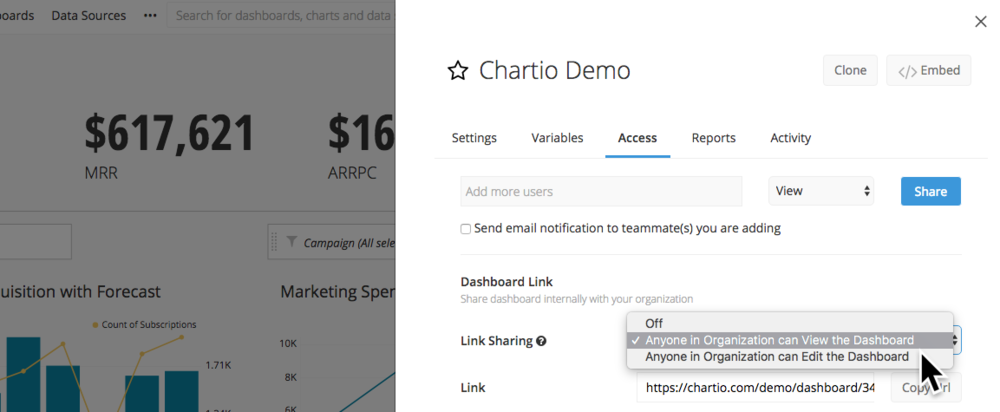 Link Sharing Access
If a Chartio user has existing access, that access will override the link sharing access level.
When the link sharing setting is updated, a new link is generated and the old link will no longer work. Similarly, when link sharing is turned off the old link will no longer be valid.
Link sharing URLs contain a random, non-guessable string to prevent unauthorized access.
Dashboard Editors and Admins can enable link sharing.
New users
You may grant access to users who do not yet exist in the organization. If you're an Owner, a Chartio invitation email will be sent to the new user. If you are a dashboard Admin or Editor, a request for approval will be sent to the organization Owners. Once the Owner approves the access, a Chartio invitation email will be sent to the new user.
The new user will receive an email with an activation link. Once they click the link in the email and set their password, they will be able to access the dashboard. Additionally, the new user will be added to a placeholder team called Added from Dashboard.
Approving access for a new user will result in the addition of 1 new seat to your organization plan.
Note: Dashboard Editors can only grant View or Edit access.
---
Arrange charts
All dashboard items (charts, variables, text elements) have a draggable area that is used to move the item. When you hover over the draggable area of a dashboard item, you will see a 4-way cursor icon and the item will have a dashed border. Click and drag from that area to move the item.
Charts can be moved by clicking and dragging on their title bar, or on the top edge if there is no title. Filters can be moved by clicking and dragging on the left side of the object, where the icon resides (except the date slider, which is draggable from the top). Rules are draggable from anywhere.
Arrange multiple charts at once
You can also move multiple charts at once. To do so, select multiple charts by either of the following methods:
Click and hold on an empty space on your dashboard, and drag the grey box that appears over the charts you'd like to select
Hold down either Shift, Control, or Command (Mac), and click each chart individually
Selected charts will have a blue outline. Drag them as you would a single chart to move all of them at once.
---
Resize charts
Click and drag from the bottom right corner of a chart to resize.
---
Clone a Dashboard
Permissions required: dashboard Admin or Editor.
Open the dashboard's settings by clicking the settings button in the dashboard's sidebar and click Clone. You'll be redirected to the cloned dashboard.
Note: Cloned dashboards do not stay in sync with the original dashboard.
---
Export Dashboard Data
Chartio offers the ability to download your dashboard in PDF or CSV format. Downloading as a CSV results in a zip file containing a CSV for each chart on the dashboard.
From your dashboard, click the Download button on the sidebar menu. Choose "Download as PDF" or "Download as CSV".

Creating Page Breaks in PDF Exports
You can create page breaks for your PDF download in Chartio. We recommend designing your dashboards to approximately every 15 grids.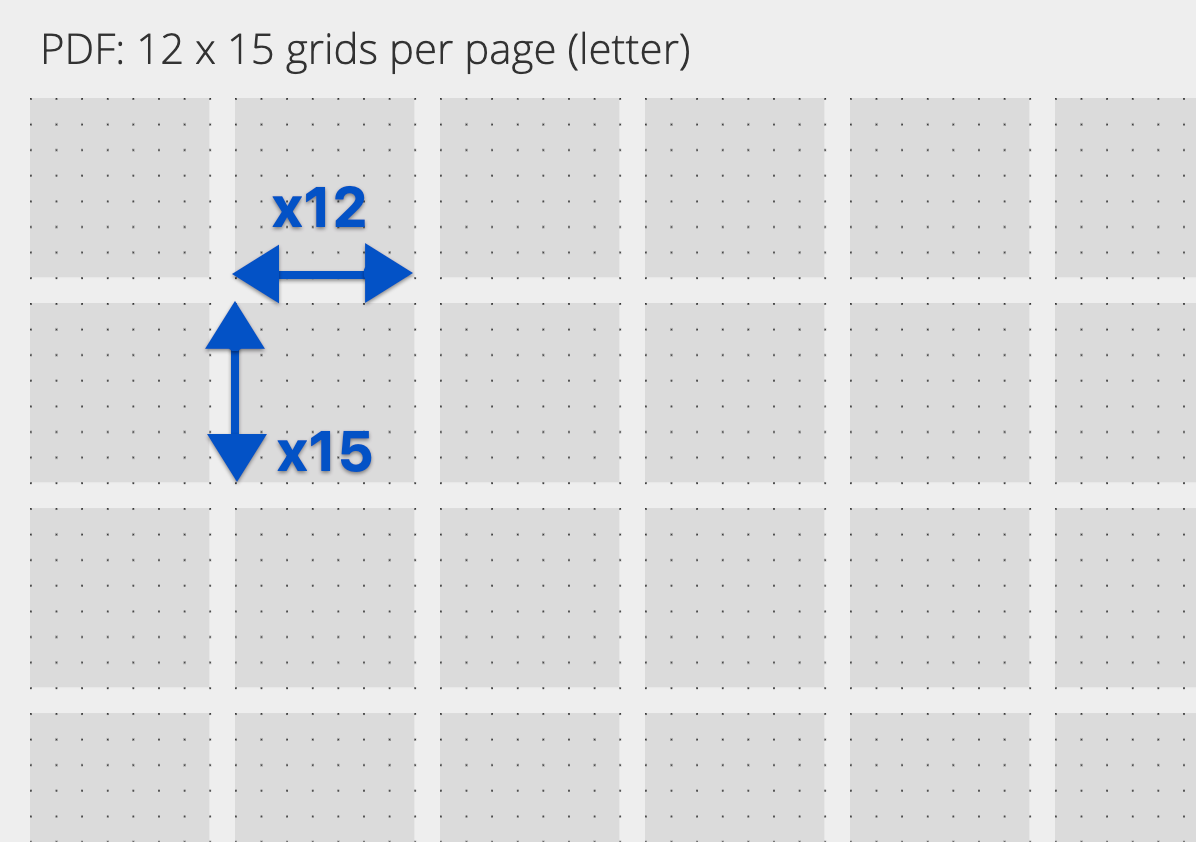 ---
Dashboard Views
By default, the right side menu on each dashboard is expanded to show the full dashboard element list and names.
Minimize Menu
Once you get to know the dashboard elements, you may no longer need to see them all listed on your dashboards' side menus. You can then minimize a dashboard's side menu, while still being able to add new elements and access the settings. Simply click on the double arrows (») at the bottom of the side menu to minimize the sidebar menu.
To reinstate the full menu view, click on the double arrows («) at the bottom of the side menu to expand it back to the default view.
Full Screen
If you're displaying a dashboard on a TV, presenting it, or just want to hide the side menu options, you can switch your dashboard to full screen. To do this, click on the Expand icon. This will hide the side menu altogether.
If you're using a browser extension and want to loop through several dashboards in full screen mode, you can also add ?present=1 to the end of the URL query string. This will remove any top or right hand side menus from your dashboard similarly to clicking on the Expand icon.


To exit full screen mode, click on the Expand icon to re-display the side menu in the previous view.