There are a number of ways you can create a new dashboard In Chartio, from creating a new dashboard from scratch or by creating one using an existing chart.
From the homepage
Go to your organization homepage by clicking the Chartio icon in the upper-left corner of the navigation bar or by clicking "Dashboards" from the same bar. From there, click the + New Dashboard button to create a new dashboard.

You'll be directed to the New Dashboard form. Title is the only required field, but you may also enter a Category to easily organize your new dashboard.
Click "Create" when the information is filled out. This will bring you to your new blank dashboard where you'll be able to start building charts and customizing your dashboard.
From Explore mode
If you're building an ad hoc chart using the Explore tab and wish to save the resulting chart, you can do so by clicking on the "Save to Dashboard" button at the top right of the chart preview.

A pop-up will open letting you select an existing dashboard or create a new dashboard where your chart will be saved. To do the latter, click on + New Dashboard on the left side menu. This will open a similar form than if building a new dashboard from the homepage.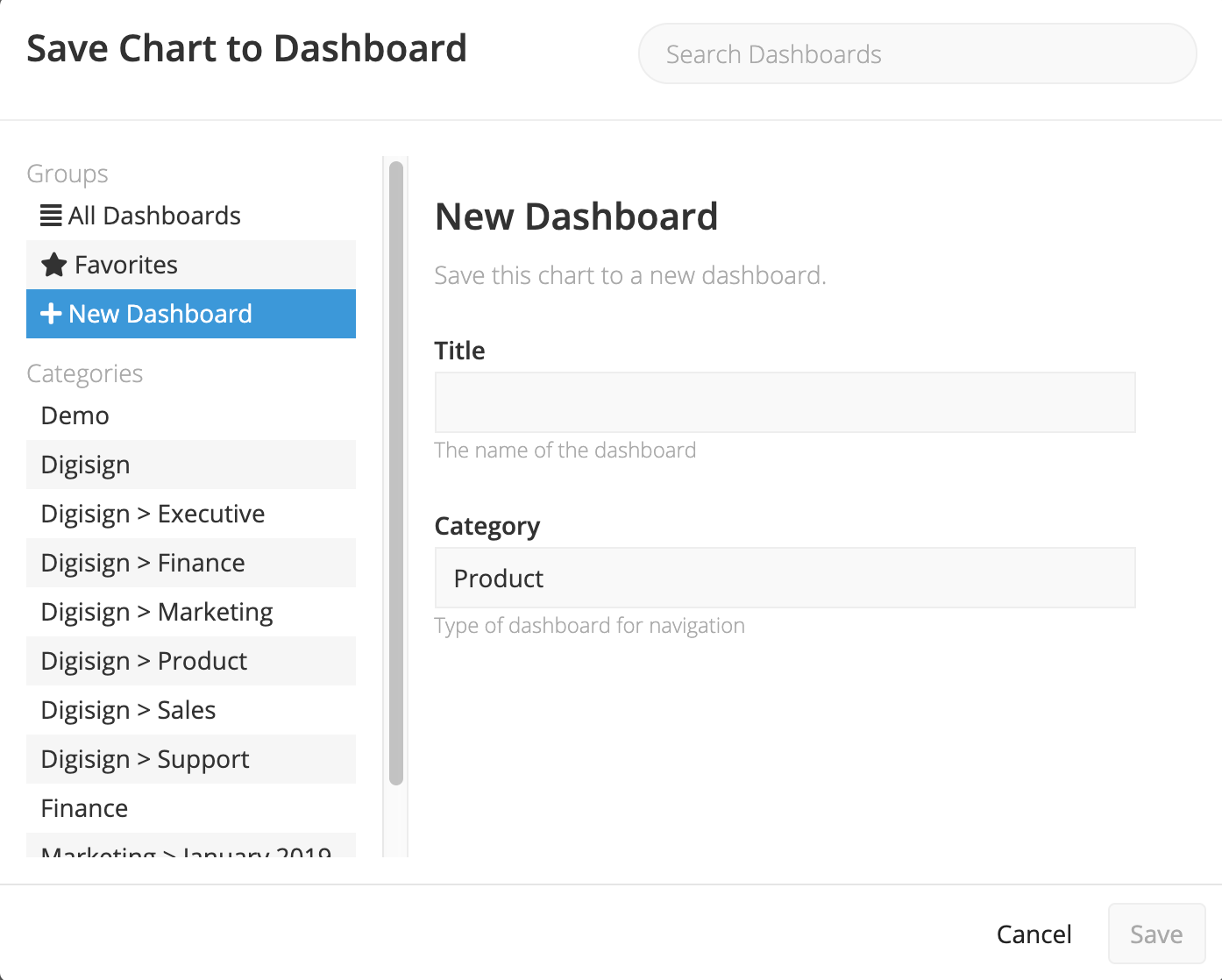 Fill out the form and click Save. This will take you to your new dashboard with your saved chart which can be placed where needed.
When cloning or moving a chart
You can also create a new dashboard when cloning or moving a chart from an existing dashboard.
To do this, either select Clone or Move Chart from any chart's ellipsis menu options. You'll be brought to the same pop-up form as if saving a chart from Explore mode, where you'll be able to create a new dashboard.
Fill out the form and click Save to clone or move your chart to your new dashboard.