Add comments to your dashboard to provide context for the charts, solicit feedback, or requests.
In a dashboard's sidebar, click Comments to open the Comments section. New comments will be highlighted with a blue dot.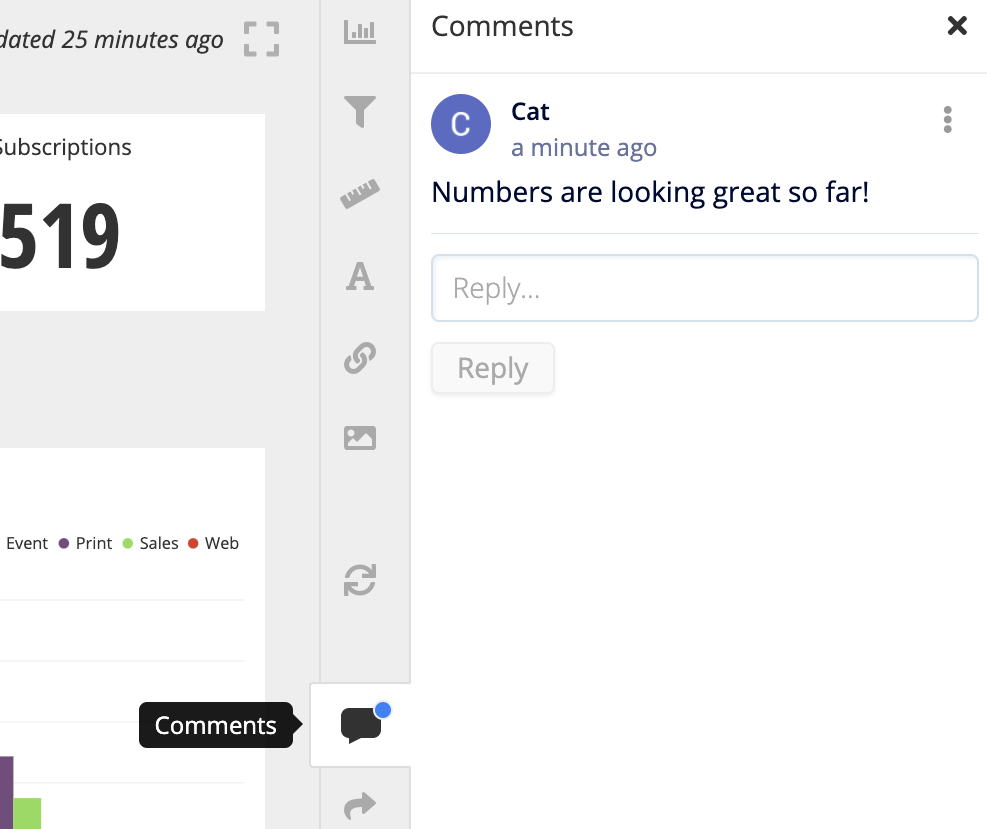 Did you know you can also leave chart-level comments? Opening the Comments section highlights any charts with comments by showing the number of comments within a blue chart comments bubble icon at the top-right corner of the chart.

Add a dashboard comment
Anyone with access to the dashboard—Owners, Admins, Editors, Viewers—can create new comments and view existing ones. Just type your comment into the text field then click Reply to post it.
Tag users in a comment
You can mention/tag any users with access to the dashboard in your dashboard comments. Just type @ and you'll see the list of users you can tag. You can search for a specific user in that list by typing out their username.
Edit or delete a comment
To edit or delete a dashboard comment, open the ellipsis menu of the comment and click Edit or Delete, respectively.
Only the comment author can edit their comments. However, comment authors aren't the only ones who can delete their comments; the dashboard's admins (Primary Admin and other Admins) can delete any dashboard comments.
Comments permissions
Anyone with access to the dashboard can create a comment. However, Dashboard Admins can delete any comment; otherwise, users can only edit or delete their own comments.
Comments notifications
You'll receive in-app notifications and email notifications whenever there's a new comment or if you've been tagged in a comment on that dashboard. You can view in-app notifications by clicking the Notifications icon in the top navigation bar.
In-app notifications example

Note: HIPAA accounts don't receive images in their email notifications.
Email notifications example