Add the Chartio app to Azure
From your Azure Dashboard, select Azure Active Directory from the far left navigation. Then, choose Enterprise applications from the Overview panel.

Next, click + New application.

In the Add your own app section, select Non-gallery application. Enter "Chartio" in the name field, then scroll down and click Add.

Add users to this application as needed. Steps for this are not shown as this is implementation dependent.
Obtain Azure SSO details
From the side panel, select Single sign-on, then choose SAML.

In the Basic SAML Configuration section(1), enter the following values:
Entity ID: https://chartio.com
Reply URL: /saml/sso
Obtain the following values and keep them handy—you'll need to configure them in Chartio in the next section.
Download the signing certificate (Base 64)(2). Open this file in a text editor.
Login URL
Azure AD Identifier
Once those 3 values are configured in Chartio in the next section, click Test(4) and follow instructions to test the integration.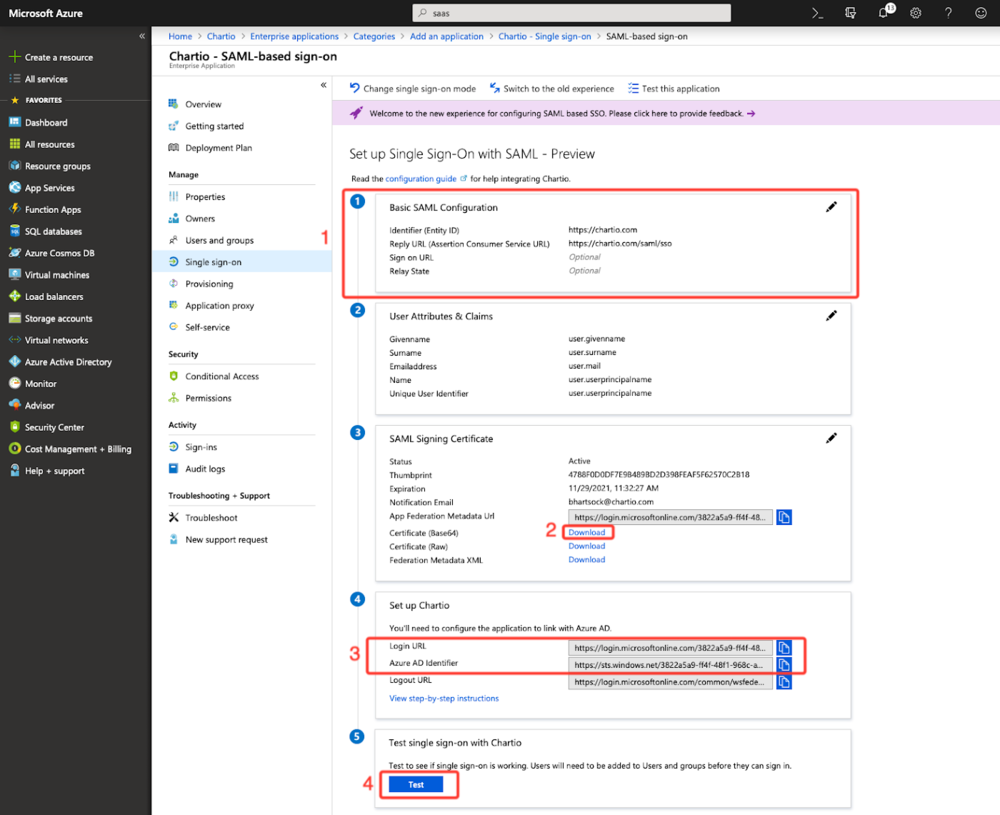 Add Azure SAML settings to Chartio
Once you've added the Chartio application to Azure, you'll need to add your SAML settings to your Chartio account.
Navigate to your organization settings page by selecting … > Settings from the top navigation. In the Organization tab, find the Authentication section and check the SAML checkbox. If you want your users to only log in via Azure, uncheck the other login types.
Enter the SSO settings from the Setup Instructions obtained in the previous step.
SAML entity ID: enter the Azure AD Identifier
SAML SSO URL: enter Login URL obtained from Azure
X.509 certificate: text value from signing certificate (Base 64) you downloaded from Azure