Add the Chartio app to your OneLogin account
Go to your OneLogin admin console, and select Apps > Add Apps from the top navigation. Type Chartio into the search box, then click our app name.

A configuration panel for the Chartio app will appear. Find the Connectors section and change the Connector Version to SAML2.0. Click Save when finished.

Obtain OneLogin SSO details
Once you click Save, you'll be redirected to the Chartio app's settings. Switch to the SSO tab and keep it handy - you'll need this information in the next step.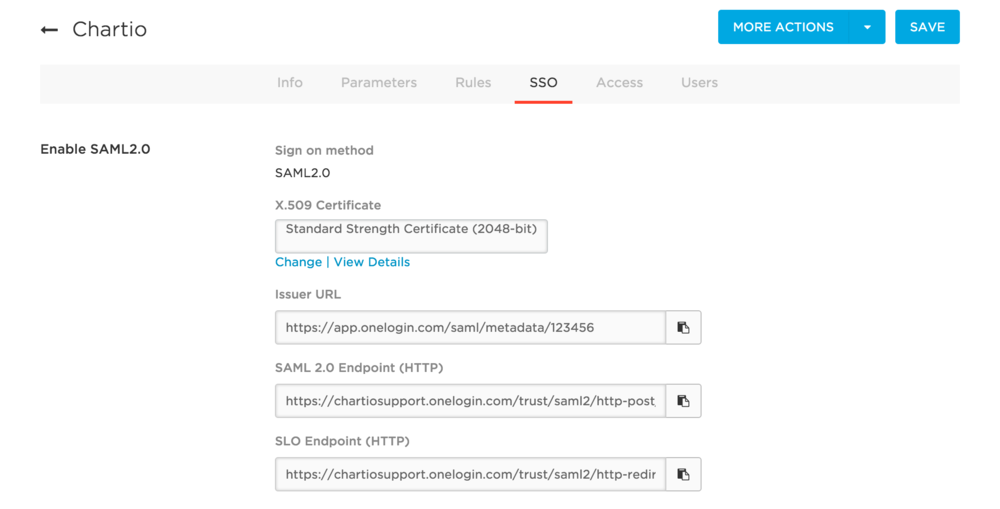 Add OneLogin SAML settings to Chartio
Once Chartio has enabled SAML login for your organization, you'll need to add your SAML settings to your Chartio account.
Navigate to your organization settings page by selecting > Settings from the top navigation. In the Organization tab, find the Authentication section and check the SAML checkbox. If you want your users to only log in via OneLogin, uncheck the other login types.
A form will appear. Enter the SSO settings you located in OneLogin in the previous step.
SAML entity ID: enter the Issuer URL from OneLogin
SAML SSO URL: enter the SAML 2.0 Endpoint from OneLogin
X.509 certificate: in OneLogin, click "View Details" below the certificate box and copy the certificate. Paste it here.