Chartio recommends that you make use of Categories to organize your Chartio Dashboards. This helps keep your Chartio instance organized and dashboard easy to find by subject.
When creating a new dashboard in Chartio, the default will be to create the dashboard in your personal sandbox.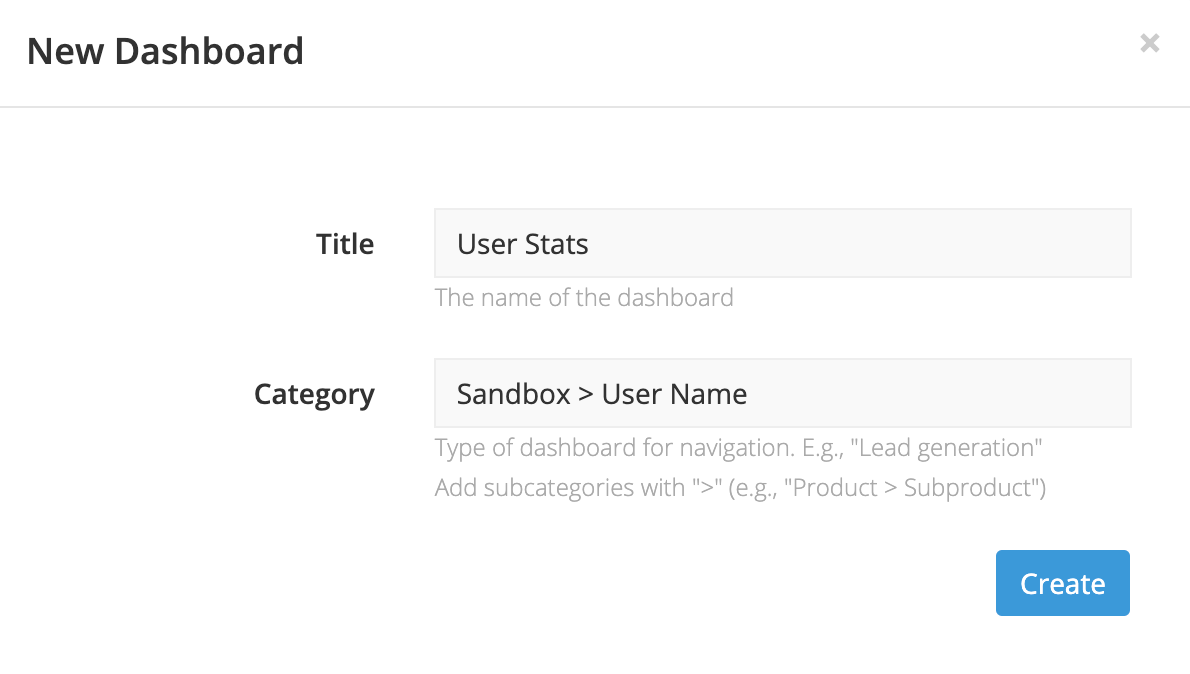 Your personal sandbox should be used to store dashboards you're currently working on or for personal use. If dashboards are considered ready for publishing or for others to view and use, we recommend moving them to a category with other dashboards on the same topic or for the same team.
Nested Dashboard Categories
To further customize your dashboard categories, you can create nested categories which will act as subsections of the main category.
To nest dashboard categories, navigate to a dashboard's settings and fill out the Category input using the following format:
Outer folder > Inner folder

You may use as many nested category levels as needed.
Update Dashboard Categories
After a dashboard has been created, you can move it to a new or existing category in the dashboard Settings.
To do this, open the dashboard in question and navigate to a dashboard's settings. Under the General tab, scroll down to the Category field and update it using the following format:
Outer folder > Inner folder

As you start typing in the Category field, a list of options will appear with the existing categories and sub-category matching your text. If the category you want doesn't exist yet, just type it out as wanted and click "Update" at the bottom right of the Settings page.
When you go back to the main page, you'll see your new category appear on the left bottom of the page under the CATEGORIES section. Clicking on a specific category will filter your dashboard list to only include options fitting within this category.
Note: You may see different options under the CATEGORIES depending on the view option selected.
For example, "All Items" will show all categories relating to all the dashboard you have access to whereas the "Created by me" view will only show the categories with dashboards which you've created.