Read-only connections
By default, Chartio sets data sources to read-only at the connection level. This provides an additional layer of security against malicious queries.
Some databases, such as Redshift, disallow the creation of variables and temporary tables when connections are set to read-only. For this reason, we allow Redshift users to disable the enforcement of read-only in their data source settings if needed.
If you are seeing an error message like "Error: Transaction is read-only", disabling the read-only setting should resolve this issue.
Even with read-only disabled, your database is still protected from malicious queries in two ways:
a user-provided read-only login Chartio uses to connect to your database
Chartio's disallowed keywords list that blocks queries with malicious keywords
Moving your database connection
If you've moved your database from one server to another, follow the steps below to maintain your Chartio connection.
Make sure that the Chartio user has been added to your new database with the same credentials
Visit your data source settings (Data sources > your data source) and switch to the Connection tab
Enter the new hostname for your database and the current password for your Chartio user. Click Save to test the connection and save the new connection information.
Charts connected to a data source
To see your data source usage, go to your data source settings page under the General tab. 
From there, you can see the "Usage" section below listing the charts, alerts, and data stores to which you have access that are using the data source.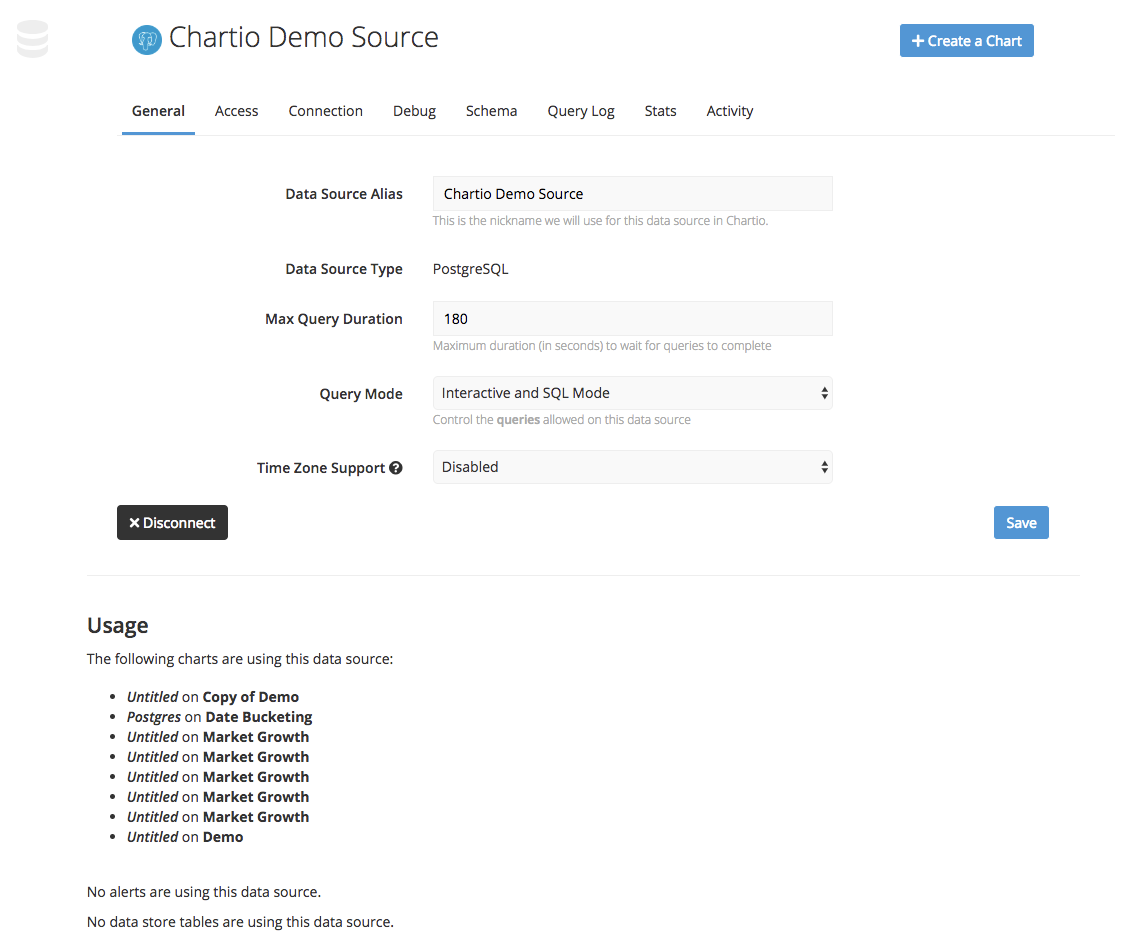 You can also write into support@chartio.com and we can provide you with the full report of all charts using this data source.
Unauthorized data sources
Data sources will appear as "Unauthorized" on the Data Sources settings page if you or your team have not been granted access to the data source.
You will be able to view charts that have been created using these data sources if you have access to their parent dashboard, but the data sources will not be available to you when using the Data Explorer.
If you need access to a data source, please contact your administrator or a member of the Owners team. You can find members of the Owners team from the Teams page, under the ellipsis in the top main menu.