Does Chartio store my data?
There are three scenarios where Chartio stores your data:
CSV Uploads
Data Stores
Cached query results
Snapshots
The data stored on our servers are encrypted both at rest and in transit. See our Security page for more information.
CSV Uploads
When you add a CSV data source to Chartio, the file is being uploaded to Chartio so the data in the file can be queried like with any database connection. Because the data now sits on Chartio servers, the CSV file can be removed from your machine and the connection will still be live.
Data Stores
The Data Store feature allows you to save query results as a new data source. Data Stores that you create in Chartio will be stored on Chartio servers to remove load off of your database. Any Stored Tables that you create will be updated according to the refresh schedule that you have set.
See our documentation for more information on Data Store security.
Cached Query Results
Query results from charts are cached and will be stored for the amount of time set for the cache duration of your dashboard.
You may control the cache duration from your dashboard settings. However, keep in mind that a lower cache duration means queries will be sent more frequently to your database which can slow overall performance and increase database cost.
Snapshots
Snapshots will save a copy of your query results at set times in PDF and CSV format every day from the date the feature is turned on. If you disable this feature, your results will be stored but no further snapshots will be collected. Your snapshots can be re-enabled until the dashboard is deleted, at which time, your snapshots will be permanently deleted.
Removing your data from Chartio
If you would like to remove all of your data from Chartio, you should disconnect your CSV data sources, delete your Data Stores, and delete your dashboards.
You can do this by going to the Data Source or Data Store page and finding the Disconnect button. Only users with Admin permissions to the data source or Data Store will be able to disconnect it from Chartio.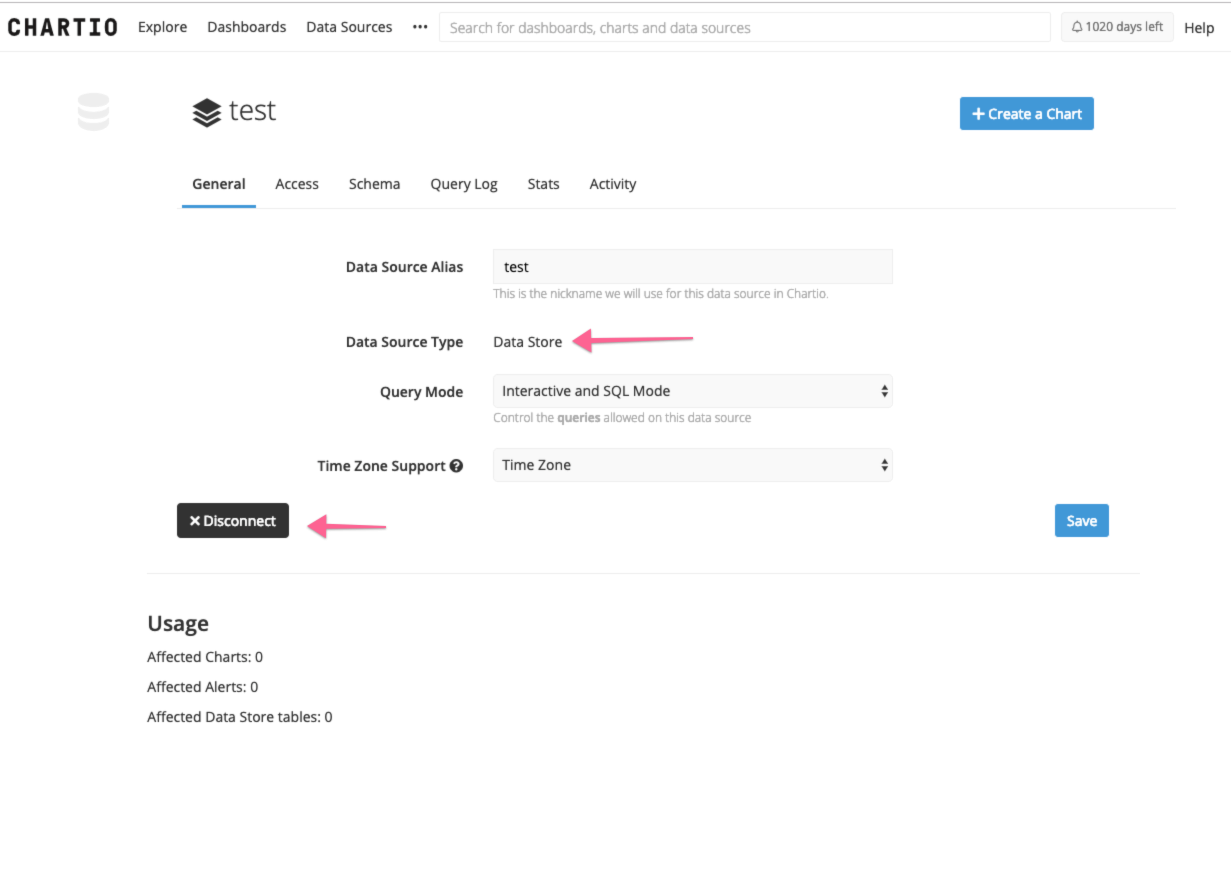 Note: Upon deleting a data source or Data Store from Chartio, all charts using those sources will also be deleted from Chartio. You will not be able to re-connect your data source and have your charts restored.