Connect to Google Analytics
If you're already signed into the Google account you want to associate Chartio with, you'll be prompted with a simple permissions request to allow access. If you're not, you'll need to sign in to your Google account before access is allowed.
If you plan to use Google Analytics custom segments, make sure the login you use for Chartio to connect to the database has permissions to access those segments.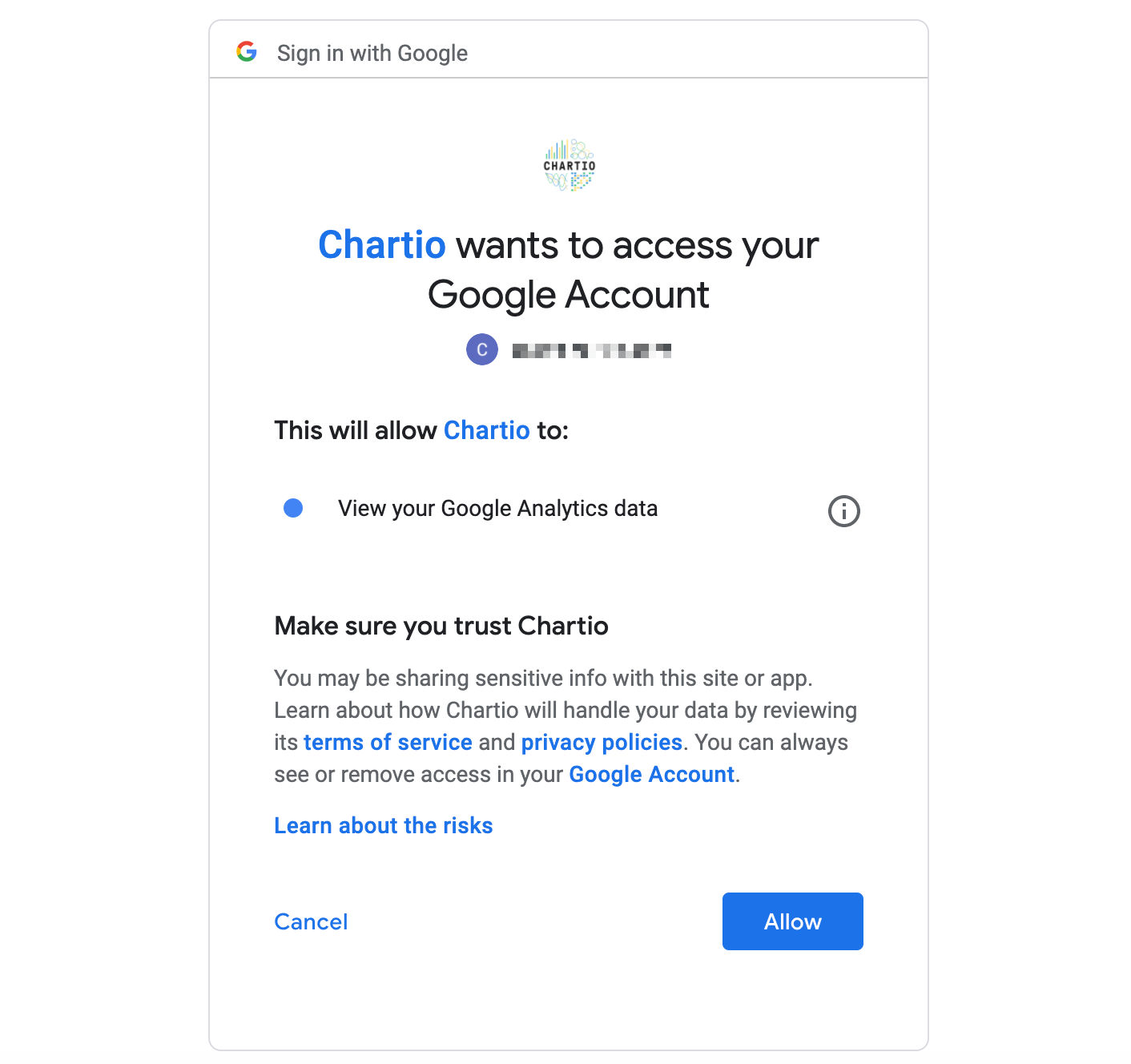 Once you've granted permission, you'll be directed back into the Chartio interface. You can now create charts with your Google Analytics data.
Aggregating Google Analytics data
The Google Analytics API only allows querying directly for dimensions and metrics and does not allow Chartio to perform aggregations on the data.
Many Google Analytics metrics are already aggregated. For example, Sessions is a count of sessions and Visitors is a count of visitors.
If you would like to apply aggregations on top of Google Analytics metrics, such as average of Sessions, you can do so in the Data Pipeline.
For definitions of individuals metrics, see Google's Dimensions & Metrics Explorer.
Can't find a metric?
Chartio hides some lesser-used metrics by default to make your data easier to navigate. If you can't find a column, please see our instructions for unhiding metrics in your schema.
Google Analytics SQL syntax
Google Analytics uses its own proprietary SQL, so you need to use that syntax when creating queries in SQL Mode. If you need more help, you can refer to the Google Analytics API guide and their Dimensions & Metrics Explorer.
Analytics 360 (Premium) accounts
If you have an Analytics 360 (premium) account, please contact support@chartio.com to enable additional custom variables and dimensions.