Connecting your Google Sheet as a data source in Chartio is a straightforward process. Here are the steps to follow:
1. Click on the "Data Sources" tab from the top navigation bar.
2. Click the "+ Add a Data Source" button.

3. Click the "Google Sheets" icon to select the data source type.
4. Choose your Google account.
5. Click "Allow".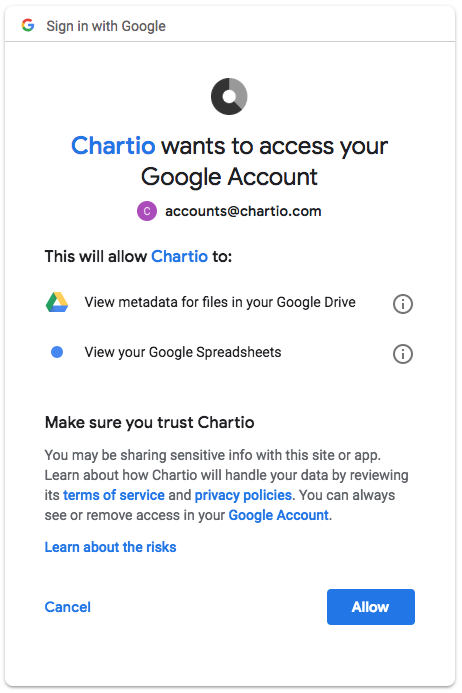 6. Select the spreadsheet you want to connect.
7. Select the tables and columns you want reflected in your schema and click "Apply".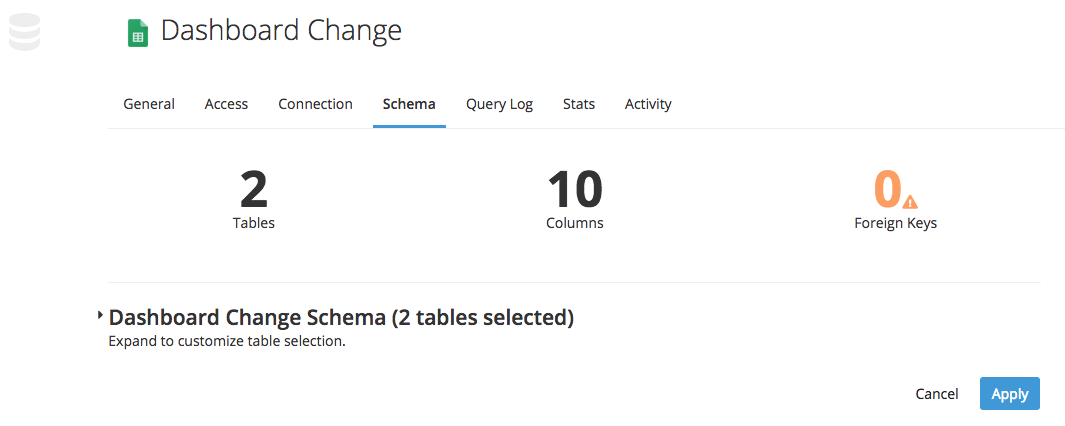 Now you have your Google Sheets data in Chartio for you to analyze, merge with your database data, and visualize on your dashboards.
If you run into any trouble during the setup process, feel free to contact us at support@chartio.com.
For more information on limitations on the Google Sheets integration such as how to prepare your sheet, limitations, and the SQL syntax to use, please see our Google Sheets documentation.
Adding notes to your tables using Google Sheets
The Google Sheets integration allows you to add notes and supplementary data to your existing Chartio charts and tables. Adding a Google Sheet as a data source and entering the note in a column in the Sheet allows the note to appear in a table in Chartio.
Create a Google Sheet with your notes and add a foreign key to join the notes to your existing table.
Add your Google Sheet as a data source to your Chartio account.
Any changes or notes added later in additional rows will automatically be picked up and displayed in your table. For any additional tables or columns in your Google Sheet, you will need to refresh the data source schema.
Tip: In order to make it easier to access that Google Sheet in the future, add a link to the Google Sheet on your dashboard.